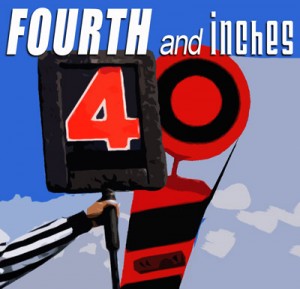 Last Saturday I travelled to White Plains for a play-off double header in the CNYEFL Southern Conference.  Dolphins Coach Johnny Thomas as the division champ was the host.  First up my Packers took on the Raiders coached by "interim coach" Papa Bear Javore.  Papa Bear – as he is known in the CNYEFL has been out of league play for a couple seasons but was recruited back to finish the season for the Raiders.  My Packers prevailed 24-12 over the Raiders in this semi-final.
The conference final was a back and forth struggle with the Dolphins coached by Johnny Thomas.  Coach Thomas showed his skills with the metal QB and my Packers continued to grind it out on the ground – scoring one more late TD to secure the win and a return to the "Big Dance".
It was absolutely a great day playing against two of the veterans of the CNYEFL.  I had missed having these gentlemen involved in the league and am glad they are back.  Hey, both games were hard fought, competitive battles – but they were FUN.  No tension or stress – other than the time clocks :).  Winning both games was great – but just sharing time on the board with these two coaches was even better.