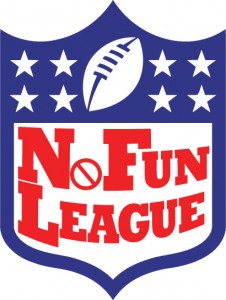 I don't think one can say the NATIONAL football league, ………………uhhh maybe the PCFL  Politically Correct football league????  No wait, ………….they are making the QB's wear skirts, …………. The Sensitive, Politically Correct Football league, ………….or maybe the IMFL, …………..The Inconsistent Message football league, ……….or just ……………… yeah, …………..you know what I'm getting at.  No, ……..I'm not a Rush Limbaugh fan, but, …………….I am someone who can't stand hypocrites.  Roger Goodell is ruining this league.   Roger Goodell is a hypocrite.  He says no to Rush Limbaugh because of "supposed insensitive comments" which have now been proven to be false AND retracted by CNN.
HOWEVER, ………….the NFL does allow one, Keith Olbermann, a devout lefty on the Sunday Night Football in America;  two, Mike Vick, a controversial convicted felon back into the league;  and three, Fergie a member of the black eyed peas, who sings lyrics that call CIA agents terrorists.  Roger, ……………get consistent will ya?????
It has become increasingly clear that "political correctness", and fear of being "offensive" and the term "tolerance" all go down a one way street for liberals.
I ask Goodell, ………….why are you being so intolerant and narrow minded of not allowing some like Limbaugh the opportunity, ………………….I said, …….. the opportunity to have ownership in your exclusive club.  If you allow the above mentioned representation, participation, and OWNERSHIP, respectively, ……………then what's up Roger???
For the record, …………I don't like Limbaugh, I rarely listen to him, ……..he lost me years ago with his attitude and drug abuse.
The nfl is pricing itself right out of middle America's reach, they are a money making greed machine.  As I have seen many times of the message board, the whiners post about "why can't some company make nfl teams??" Some posters even have the oblivious attitude that they are owed cheap reproduced nfl teams, ………………..hey, ….this ain't the 60's, 70's, 80's or 90's, ………..ITS 2009!!!!!!    The age of BIG $$ via Television and video games, …………..
By the way, …… nfl stands for some others things you have read or heard over the years, ……….things like the No Fun League, ……….and No Family Life, ………..got some??    How about Nitwits For Lefties???
Would love to see them.