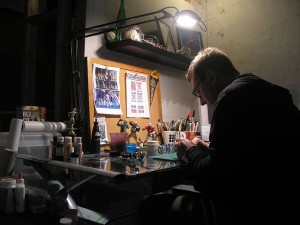 Welcome to all on the new Website. Great job Lynn!
I am hoping that my blog will connect all of those who love to play EF in solitaire play, much like we did as kids.
I it will start out as more of a question and answer blog, such as "What are your rules", questions like that. I hope to get stats from folks and where you are based.
So, to start off as many of you may already know, I am an old school EF player/coach. My league (BEFA) is an "Iron man" league, eleven guys playing both ways. It consists of six teams from the WFL and the USFL with an eleven game season. But more on that later.
My first few questions to everyone is…
1. How many teams are in your league?
2. Painted figures or old school Haiti/Tudor figures?
3. Does your league have a name?
So, welcome all, and enjoy the web page. Oh and by the way, I am going to be adding some fun photos after every post.
Enjoy
Chris (clmdesign)