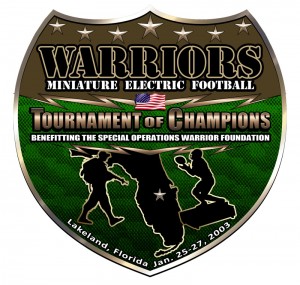 Substantial planning and progress has been made for the Warrior TOC. We are ready to welcome you to the Sunshine State for America's first Scale Electric Football Gameboard tournament! Imagine walking into the 1400 square foot tournament facility to see a dozen big boards (1/2″ = 1 yard) ready to see just how big your game is!
We have two major airports within 35-55 minute drive of Lakeland. Orlando International Airport is 55 miles away and Tampa International Airport is 43 miles away.
Lakeland FL is centrally located in Florida, close to several amusement parks (including Walt Disney World Resorts) and some of America's best beaches. Take a break from winter, come to Lakeland, get your electric football fix and give your family a break from the cold!
Attractions:
Disney world Resort Complex with four Disney Theme Parks – 39 miles
Universal Studios Orlando – 47 miles
Busch Gardens Tampa – 33 miles
Fantasy of Flight – 17 miles
Legoland Winter Haven – 20 miles
Beaches
Clearwater 58 miles
St Pete Beach 65 miles
Daytona Beach 110 miles
The Imperial Swan Suites Hotel in Lakeland, FL has suites starting at $68 special price for all Warrior TOC participants.
Imperial Swan Hotel & Suites
4141 S. Florida Avenue
Lakeland, FL 33813
Phone (863) 647-3000 • Fax (863) 644-0467
http://www.imperialswanlakeland.com/
All proceeds after expenses will be donated to the Special Operations Warrior Foundation.
I hope to see you all in January!
Jerry McGhee
Warrior TOC Organizer