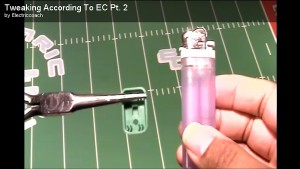 Take the next step to getting that freshly tweaked base to move faster and more consistently by using a lighter. We call it flashing and you won't believe what this simple technique will do! Plus more…watch and learn from The Electric Coach!
Being a beginning tweaker myself I had a few questions after watching part two.  Here are the questions I posted along with the Electric Coaches' answers.
Q: When you flash are you putting the flame to the prongs you are holding in the needle nose or the other, exposed set of prongs?
A: I flash the prongs that are being held by the needle nose pliers. The tips of those prongs must be exposed beyond the edge of the pliers so that the flash is melted; the rest of the prongs are shielded by the body of the plier's jaws. You may have to hold the pliers at different sides in order to get each prong exposed. Due to time constraints, I didn't cover it in the video, but sometimes you may have to flash without the pliers because some flash is so minute that it can be covered by the tips of the pliers.
Q: What is the technique for using the heated duckbill pliers?
A: When using the warmed pliers, use the same technique that you saw in the first video. The texture of the base that you are tweaking will determine how much pressure is applied during your squeeze. The plastic texture of each type of base varies. An example would be the Buzz Ball black speed diamond base, which is softer than the green speed diamond base. I squeeze both prongs with the pliers. There may be times when you may have to squeeze one prong at a time. An example would be when a prong needs special attention over another. That usually occurs during the alignment stage.