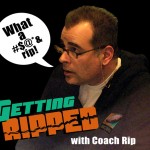 We need another title to replace the one we have been using over the years…… "Coach".   I have been involved with this hobby for over ten years.  I also, like many of us, have been a real coach, coaching football.  I see kids I had coached over 5 years ago, and they still say "Hi Coach".  It makes me happy that they remember me, hopefully, like I remember my coaches from my youth.
A coach is an individual involved in the direction, instruction and training of the operations of a sports team or of individual sports people.  Many times a coach is a mentor to a player, and helps his players learn lessons not only playing the game, but in life as well.  This is one of the reasons I feel the word "Coach" should no longer be used in our hobby.
There are many guys in this hobby, who have actually coached real sports.  There are many who have not.  There are some in the hobby that are not worthy of the title of coach. I think using it in the hobby cheapens the word itself.
When outsiders see the "coach" title used in this hobby, I think many tend to snicker, ……………."Yeah, right, …………..coaching little plastic figures…..not real people…"
This is a very unique hobby.  Most unique things create titles or classifications that are unique to themselves.  Look back at the internet and the new users were classified as "Newbies".  This environmental hysteria has coined a few new words, one being "Carbon Footprint".  Or another new word, "frenemy", one who pretends to be a friend, but really is an enemy.  "Tweeting" comes from the Twitter web site. And WE have even coined our own term "TWEAKING"!
I think you see where I am going with this.   We need a title that describes what we do AND IS UNIQUE TO US!
I know there would be issues about changing the name of the association and things of that sort, but trust me on this, ……………………………….if we can come up with a new, inventive title in lieu of "coach", it would enhance the hobby.  It could even be an acronym.
Coach, Collector,  Tweaker,  Team Owner, Player, General Manager, Miniature Football, are all words that I thought help describe us to the outside world…………..there are other aspects/words too.
There are words that take on new meanings, ………………..like "gay" for instance.  There are words that are invented, like Ed Scott's "Pleff", ………a player/referee.   I like "EMeffer" which stands for Miniature Footballer………………I know there can be raised eyebrows when you say you are an "EmEffer", ……………"you're a what??" EmEffer, …………….Miniature Footballer…………….which opens the door for you to tell them what we do in this hobby!
Maybe the MFCA should look into this more, perhaps a contest is in order?