(This article is reprinted from the first ever original website dedicated to Electric Football created by Bill and Mark Klingbeil. We will be adding all the pages from "The Read Zone" in the near future in an attempt to preserve some of the early history of Electric Football)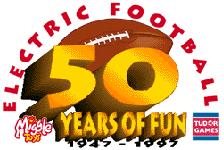 One's life can be charted by looking at the importance of one item…the phone. When you're a kid, there's nothing worse than the phone. I remember my mom making me sit and talk with Aunts, Uncles, and all those annoying relatives. Later, as a teenager, the phone was sacred (does she like me, does she know I like her?). As an adult, we revert back to our childhood apathy of the phone. But never in my life did a single phone call excite me like the one I received in 1993.
I remember that call early in the morning. I had called the newest producer of Tudor Games, Miggle Toys and left a message for them to call me so I can order some bases from them. When the phone rang and I answered it and said they were from "Miggle Toys," I expected the person on the other end to be a shipping clerk or something. After talking with him a short while, I knew he was too knowledgeable about the game to be a shipping clerk. Then my heart skipped a beat when I discovered that the person on the other line was the new owner, Mike Landsman.
We talked for a great while, and he was genuinely interested in the way we had advanced the game. When we told him how we ran real offenses and defenses with sweeps, traps, draws, passing, zone coverages and such, he asked us to make a video for him to show at a New York toy convention.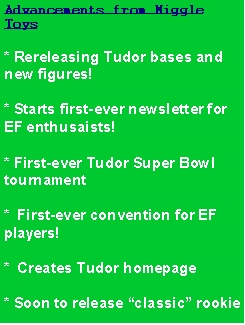 I answered "YES" just as soon as I could! However, there was one catch; we had to complete it over the weekend and send it next day air in order for it to be in New York on Wednesday. Bill and I worked all day Saturday and Sunday to get the job done. We were pretty impressed and proud of our little twenty minute action-packed, rocking-loud video.
It didn't take Mike Landsman long to fulfill many of electric football enthusiasts
most treasured dreams. First he started a newsletter, first named "EF News," later changed to "Plugged In." In the second issue he stunned the EF world by announcing an electric football Super Bowl tournament. Four would fly to Chicago to compete in the first-ever national EF tournament!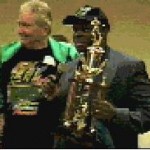 Fortunately Bill and I were chosen and were lucky enough to win.
As unbelievable as that was, Mike was not complacent. As amazing as the first Super Bowl was, it only connected four players. The following year Mike decided to hold a convention in conjection with Super Bowl two. Mike's vision unveiled its beauty, tables upon tables with games on so people could play, booths (like the Read-Zone's) for people to buy great new products, and plenty of EF enthusiasts to make the vision a dream come true!
This year witnessed another successful convention, a new EF board with a full stadium surrounding the field, and the eventual release of the old "classic" rookie bases. What's next? I don't know, but I can't wait for the phone to ring!