We all new Ravenna Al was a bit on the loose side of a nut and bolt combination, but now he has gone postal too! Ravenna Al Dunham has just created the first ever Electric Football Postal League. Ravenna Al explains it. "Each coach has his own team that is put into the league. The teams will play a 10 game schedule. They will get mailed to the coaches depending on the schedule. When you get your 2 teams (they may or may not include your team) you will then play a game using your solitaire rules. You will have 10 days to complete the game. Then those 2 teams get mailed out to 2 other coaches who will play their games using their rules. Each team will play 10 games. Each coach will get to play 5 games. At the end, we can have a playoff between the 2 top teams played by a neutral coach. The costs will be appx. $50-55. This will pay for the shipping of the teams as the season progresses. I'm figuring on 2 weeks to complete 1 'week's of scheduled games, so the season should take about 5 months to finish. The teams will be simple. 11-30 men on the team. 4.0 gram weight. No face masks (don't want them to fall off and get lost) Figures glued to the bases so that they don't get mixed up. Any base or figure that resembles more or less normal proportions is allowed. All of your games will be played by your solitaire rule set with one exception – the games will be 14 play quarters to have a consistent time limit and give the teams equal chances of play.  This will be starting the first week of January."
To learn more visit the forum thread: http://www.miniaturefootball.com/forum/showthread.php?23985-I-m-going-postal!!!!!
Many coaches have signed up including Canadian, Shane Hoopfer. Shane recently showed off his new team created for the Postal League and included the press conference that took place!  Here is a excerpt from the press conference held this morning at Possum Lodge located at Possum Lake Ont. Team Owner Red Green is speaking about how the lodge decided to purchase a team in the Postal League…
Red Green: Well I'd like to thank everyone for joining us here at the lodge today. Unfortunately we've had to cancel the annual polar bear swim due to the fact that there is a polar bear who beat us to the lake this morning. Thankfully Ranger Gord was able to warn everyone in time and we all wish him the best as he recovers from his injuries he suffered during his pre-event dip. I'll now open up the floor to questions.
Reporter: How is it that a small lodge in Northern Ontario was able to purchase a team in this league?
Red Green: The Lodge was fortunate enough to receive a inheritance from Old Man Sedgewick.
Reporter: When did he pass away?
Red Green: Pass away? No no. Mrs. Sedgewick just got her new credit cards in the mail and Old Man Sedgewick decided to give the lodge his fortune before his wife could go on here shopping spree. Hmm come to think about it someone should go check on him. We'll get back to you about that passing away thing.
Reporter: How did the lodge decide on American Football as a sport to participate in?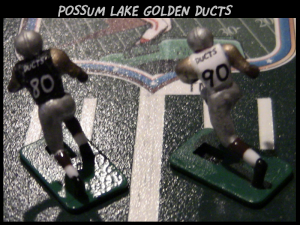 Red Green: The original thought was to purchase a NHL team to play on the lake but we figured if we had a NHL team then Toronto would want one as well. With hockey out of the picture the next natural progression was to purchase a CFL team but as we all know this is Ontario and no one actually cares about the CFL here! So the Postal League was a natural fit for us.
Reporter: It is said you have team name and uniforms to show us?
Red Green: Indeed we do! We are happy to unveil the newest team to the Postal League… The Possum Lake Golden Ducts! We are most pleased with the uniforms as we were able to recycle the white and black uniforms from the lodge's softball game last year. Along with Duct tape covered pants and helmets. Of course my nephew Harold pointed out the fact that the uniforms looked similar to a certain team in Oakland, so we had to get creative and Dalton remembered Alchemy Day at the lodge where we tried to turn lead into gold. It was a great success after that Home Depot truck skidded off the road and lost it's cargo which was cases of gold paint! So we sprayed up the arms of the uniforms in gold, and not only do we have no lawsuit, it helped us in coming up with the team name! Thank you all for attending and without further adieu may I reveal the Possum Lake Golden Ducts!