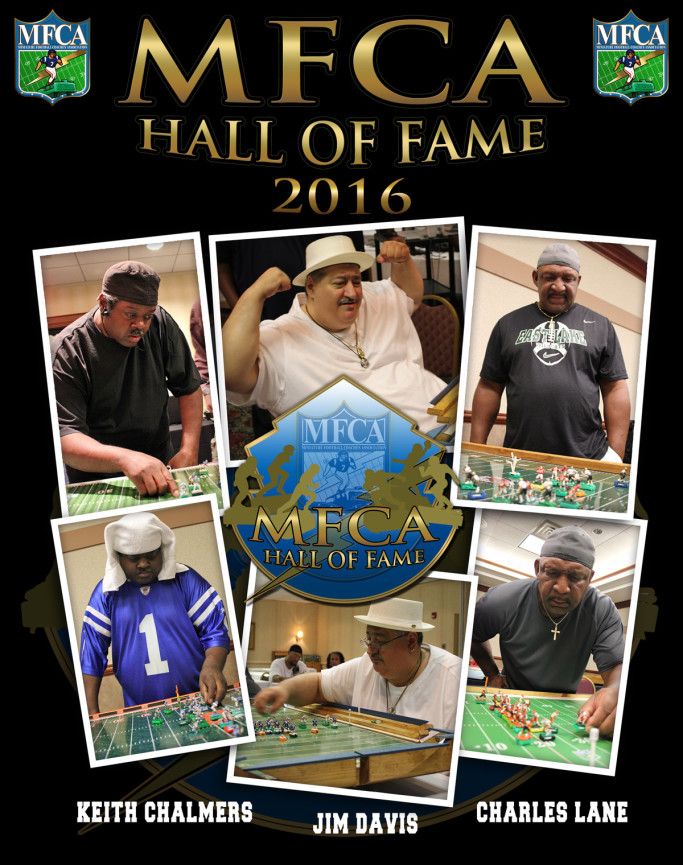 There is no denying that the 2016 class is one of the most powerhouse group of competitors, characters and coaches in the history of the game.
Congratulations to Charles Lane, Jim Davis and Keith Chalmers on your induction into the 2016 Miniature Football Coaches Association Hall of Fame class!
Coach Kit Kinchen said it very well in his congratulations to the new Hall of Famers. "I want to congratulate these three men! Ever since I started watching various forms of media involving Miniature Electric Football, these three men stood out. Their accomplishments on the field are second to none. What really stands out to me was the gentle nature off-field that was humble and inviting to those who wanted to learn to play the game. Be it watching Charles Lane's tranquil victories on YouTube, Jim Davis's witty media representation of the hobby while winning tournaments or Keith Chalmers' notable accomplishments while his antagonistic measures have won him world-wide acclaim, these three men represent all that I have known well about the game of electric football."
Charles Lane
Charles is a current member of the DSEFL and DSMFL from 2007 – present.
8 straight DSMFL championships, multiple TOC championships and Dixie league championships.
Charles is a true champion! He has played in every major tourney within the MCFA where he has been a top finisher in each. He has won two Dixie league championships. As one of the best board makers in the country, this guy goes above and beyond for his fellow hobbyist. One of the fairest coaches to play in EF, Charles has a way to make coaches like him. We call him the gentle giant down here. Charles made it possible for a lot of the Deep South coaches, to travel, and play in tournaments, like Miggle and the TOCs. After a bad motorcycle accident, Charles went to the next TOC, about a month later, and won it! That shows true dedication!
Charles Lane, by far, is one of the most decorated coaches NOT in the HOF, but I'm sure his day will come!
Jim Davis
1969 – 1977: The West Side Detroit EFL
1991 – 1999: The Detroit EFL
1999 – The Ann Arbor EFL
2000 – Present: The Great Lakes EFL
2004 – 2005: The Akron EFL
The Detroit City College EFL
2006 The Seawall Brawl
AJ's College Tournament
Several BuzzBall Tournaments
2009 CBSMF Big Ten League and Tournament
All of the Miggle Tournaments
Great Lakes EFL
CBSMF
Sea Wall Brawl
Detroit West Side EFL
Detroit EFL
Ann Arbor EFL
Great Lakes EFL
DFW EFL
Akron EFL
Aaron Johnson College Tournaments
Every Miggle Convention and Tournament
Buzzball Tournaments
Buzzball Winterfest Tournaments
Seawall Brawl Tournaments
Capitol City Clash Tournaments
Bama Blast Tournaments
MFCA Conventions and Tournaments
Tudor Convention and Tournament
MFCAL
OCEFL
Miggle's 2009 National Champion
Ann Arbor EFL 1999 Champion
Akron EFL 2004/2005 Champion
AJ's College Tournament Champ
3 times champ and 2 times runner up of the West Side Detroit EFL
Detroit EFL 1-time runner up
Great Lakes EFL 1-time runner up
Led every league played with in rushing
GLEFL Champion
3 times Detroit West Side EFL champion with Oakland, Buffalo and San Diego
Ann Arbor EFL in 2000 aka The Great Lakes EFL champion with Detroit Lions over Ken Allen
AJ College Tourney champion
Akron EFL champions in 2005/2006 with the Detroit Lions over Will Shropshire-Undefeated season
Miggle Tournament 2009 national champion with Oakland Raiders over Norbert Revels
Great Lakes EFL 2009/10 champions with Houston Texans over Ali Rozier
Great Lakes EFL 2011/2012 champions with Oakland Raiders over Jamel Goodloe
TOC Capitol City Clash 2013 champion with Detroit Lions over Will Chalmers
TOC Bama Blast 2013 champion with Buffalo Bills over Rafiyq McDanul
TOC MFCA / TOC 2013 Champion with Buffalo Bills over Will Chalmers
Great Lakes EFL 2013/2014Super Bowl champion with San Diego Chargers over Ken Allen
3 TOC regional championships in 1 year
The MFCAL 2014 champion
2 Final four in TOC Tournaments in 2015
2 runner-ups in Detroit West Side EFL
1 runner-up in the Great Lakes EFL
Buzzball final 4
DFW final 4 in the AFC with only 1 loss to Michael Robertson
Nationally known as one of the best base tweakers out there
I'm nominating Jim Davis because of not only the above accolades but because he also has been a great mentor to many in this hobby, including myself. He is one of the most enthusiastic people in this hobby. He taught many how to play including his two daughters Shyenne (who won 2 Miggle championships) and Jaya (who made it to the Miggle championship game her first year). He has befriended many around the country while keeping the spirit of EF alive in the Great Lakes area.
Jim Davis is the very essence of the MFCA and electric football. He is not only one of the greatest tweakers of all time, but his game play is legendary and his persona towards the game is a great asset to the hobby. I met him at the first Miggle Convention, and ever since then he has always showed a high level of sportsmanship, fellowship and class towards other coaches and the hobby. You can ask many coaches…a tourney without Jim Davis is one without a lively person, who brings joy to the room and livelyness. I hope the MFCA Hall of Fame committee considers Jim Davis for this award, because of his dedication as a coach and his dedication to helping new coaches. Bottom line…he has not been one to win all the big tourneys like perhaps a Adrian Baxter or Ron Bell, but has done more for the "art" of coaching, by helping others to be better coaches.
Difficult to put in one paragraph why Jim is a Hall of Famer. He's Mister Miniature Football… Certainly a master tweaker over many, many years. His Hulk bases are well known, and he is an excellent coach. His approach to the game is as much like a real coach as you could have in a hobby. He's a proven winner, capturing the Miggle ring last year and is always in the Great Lakes Playoffs. He finished second two years ago and is in the G.L. Super bowl this year. I believe he won a GL. championship in year one or two, and I believe he has also won Buzz Ball Tournament. I think he has been to every Miggle convention, our regional convention, Buzz Ball, Sea Wall Brawl and played in the DFW in Texas. He a big guy with a heart of gold, he loves the hobby, he loves the coaches. He been a great supporter of the MFCA as well on the chat board and its functions. It would not even be the same hobby with this coach! I hope I am the fifth person to nominate him… really a no brainer in my book that Jimmy deserves to be in the HOF.
And he is a loving father and a great husband.
Keith Chalmers, Sr.
Currently in three known leagues: NEFL, BEFL, and I-95
2000
MEFA League Runner-up, Columbus Day Bash Champion
2001
Capitol City Clash Champion, MEFA League Champion, MEFA Coach of the Year, Columbus Ohio College Champion, Columbus Ohio #1 All-American M.V.P.
2002
MEFA League Runner-Up, Bama Blast College Champion, Capitol City Clash Champion, Buzzball Winterfest Champion, BWCFL League Champion, Harrisburg Buzzball College League Bowl Champion
2003
Buzzball Winterfest Runner-Up, Beltway Brawl Runner-Up, BWCFL League Champion, MEFA League Champion, Capitol City Clash Champion
2004
Bama Blast Coaches Challenge Champion (paired with Hall of Famer Adrian Baxter), Buzzball Winterfest Runner-Up, Columbus Day Bash Champion
2005
BEFL Summer League Champion, BEFL Conference Champion
2006
BEFL College League Rose Bowl Champion, Miggle 7Tournament Champion and winner of FIRST Ring, BEFL Summer League Champion, High Voltage League Champion
2007
Bama Blast College Runner-Up, Bama Blast Pro Runner-Up, BEFL Summer League Champion
2008
BEFL League Runner-Up, BEFL Division Champion, BEFL AFC Champion, BEFL Green Room Rumble Champion, NEFL Division Champion
2009
BEFL Bash runner-Up, NEFL Division Champion, NEFL Super Bowl XI Champion, KSEFL League Weighted Champion
2010
BEFL Bash Champion, BEFL League Runner-Up, NEFL Division Champion
2011
Baltimore EFL Weighted Champion, NEFL Super Bowl XIII Champion
2013
BEFL League Champion, BEFL Division Champion, NEFL Division Champion
2014
BEFL All-Star Team Co-Champion, NEFL Division Champion, BEFL Thanksgiving Day Bowl Runner-Up
2015
Beltsville MFCA Champion, Beltsville MFCA 3.4 Champion, Bama Blast MFCA Champion, Richmond MFCA Final 8 , Beltway Turkey Bowl Champion
Despite his sometimes "Salty" exterior, Big Keith has a heart of gold. He has competed at the highest levels and a true champion through and through. His resume speaks for itself.
Personally, he is a great dad, loyal friend, and wonderful league mate. He has mentored several coaches and is an ambassador for our hobby.
I am truly honored to have competed against him and am proud to call him as true friend.