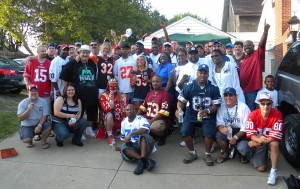 The 3rd annual MFCA Convention held in Canton, Ohio from August 5-8, 2010 went off without a hitch and the fun and fellowship that has become a growing tradition with this event was the predominant memory that most coaches took home with them. There are many stories that came out of this years convention and to get the real feel for the event, you will need to wait for the upcoming Fall Tweak magazine with 13 pages dedicated to the convention. From the CBSMF to the CPC and the MFCAL to 500 kids tailgate party, Ben-Gals, the speech to no where, Zack G's new Rollerboard, Tim Young's Strength test, Al's Tweak Off upset, Corey and Ken's classic championship, a Longhorn repeat and Hall of Fame surprises, the convention came through again!
Here are the results of this years events and stay tuned for the Fall Tweak for more!
Jennings Figures Raffle
Rick Garrison
Paint/Custom Competition
Classic: Joe Allore
Enhanced: Frank Jacobs
Skills Competition
Passing: Matt Culp 290 pts
Kicking: Ed Roche 300 pts (tiebreaker kickoff between Matt Culp, Steve Martin, Joe Greco and Ed Roche)
Fastest Man: Kelvin Lomax 55 6/8 inches
Fastest Man Enhanced: John Martin 40 6/8 inches
Strongest Man: Jim Davis 24 inches
Strongest Man Enhanced: Jim Davis 22 7/8 inches
The Great Tweak Off Speed
1st: Dearell Brevard 32 2/8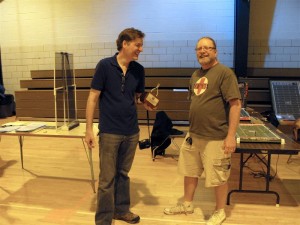 2nd: Joel Pritchard 30 6/8
3rd: Mark Francis 30 5/8
The Great Tweak Off Strength
1st: Al Dunham 16 3/8
2nd: Jim Davis 15
3rd: Dearell Brevard 14 1/8

Route Running Contest
Matt Culp, Steve Martin, Joel Pritchard and Rick Garrison each completed it. Steve Martin did it in 1 try and split the pot with the MFCA.
Flame Keeper Award (formerly the Presidents Award)
Scott Hooper
Dimitri Matias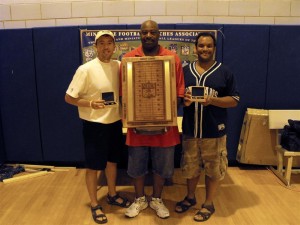 The Daley Award Traveling Trophy
The Great Lakes Region
Ken Allen
Joe Alore
Steve Martin

The Lee Payne Award
Will Traverse
CBSMF Championship
Michael Robertson over Doug Shanefelt

MFCAL Regular Season Trophy
Corey Johnson
MFCAL/CPC Champion
Corey Johnson
Hall of Fame Inductees
Mike Pratt
Lavelle Shelton
Lynn Schmidt