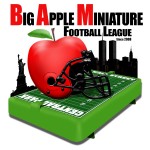 This weekend the Big Apple Miniature Football League will be hosting Super Bowl III at the Toy Wiz in Nanuet, NY.
The BAM is in it's third season of exciting miniature football.  Formed in 2008 by Morgan Scott and Wally Jabs this league is comprised of some of the finest coaches currently playing the game.  This is NOT the game of electric football that you remember from the past – these figures are detailed athletes that you can coach to do what you want them to do!  Our game site – The Toy Wiz in Nanuet, NY is an incredible, high energy location supporting gaming of all types.
On December 11th six coaches will be taking part in the play-offs, with the Super Bowl scheduled to kick-off at 6:00PM.  If you live in the New York City metropolitan area and want to see electric football being played at it's highest level then stop by the Toy Wiz this Saturday.
For more information on the BAM check out the MFCA forum or our website at www.leaguelineup.com/bamfl.