The fifth leg of the Tournament of Champions will be held June 2-4, 2017, in Oxford, Alabama.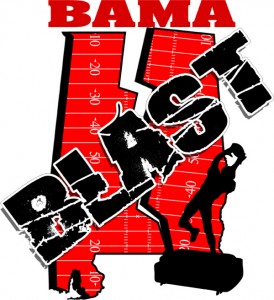 BAMA Time. SAY WHAT, YEA YOU HEARD ME……..
We had a blast at the Clash, now it's time for BAMA.
So what's up coaches? My staff and I have a lot going on for you guys.
Come one come all, it's time to play some ball! Coaches will be coming on trains, planes, & everything.
This is an event you need to see and the place you need to be!
Be sure to reserve your rooms early at the Holiday Inn Express in Oxford, Alabama.
Dates: June 2-4
Hotel: Holiday Inn Express
160 Colonial Drive
Oxford, Ala 36203
256-835-8768
866-298-3706 (toll free)
Website
Room Price: $94.00
Double & single beds same price.
Ask for BAMA BLAST rate
Tournament Entrance Fee: $30
Payments can be made through PayPal to dnickles@cableone.net or at the door.
Deadline for making payments through PayPal is Friday May 20, 2016.
Any Questions? Call David Nickles 256-591-2304
2017 Bama Blast Itinerary
June 2-4
Friday, June 3, 2016
• 5:00PM Game Room Opens
• 6:00PM Bama Blast opening ceremony and dinner
• 8:00PM 'Coaches Challenge' tournament begins (timed 30 min halves-no TO's) & the 'Fourth & Inches' board game tournament / 8:00-10:00PM 2016 Bama Blast TOC Registration begins. MANDATORY for ALL (non-Friday night tourneys) participants.
• 10:00PM Coaches Rules meeting and questions session
• 12:00am Game Room close
Saturday, June 4, 2016 – Bama Blast TOC Tournament
• 3 Pool Rounds. 40 coach estimate-10 pools-3 games per coach (timed 25 min halves-no TO's, 1 O/T max)
• If record at end of pool is tied the winner is: 1) head to head 2) total points scored 3) least points scored against
• 8:00 Game Room opens
• 8:30-9:30 Pool Round 1
• 9:40-10:40 Pool Round 2
• 10:50-11:50 Pool Round 3
• 12:00-1:30PM LUNCH (on own)
• 1:35-2:45PM Elimination Round of 16 (timed 30 min halves-no TO's)
• 2:50-4:00PM Elimination Round of 8 (timed 30 min halves-no TO's)
• 4:00-5:30PM Dinner Break
• 5:40-7:00PM Elimination Round of 4 (timed 35 min halves-no TO's)
• 10:00PM Game Room closes
Sunday, June 5, 2015
• 8:30AM Game Room opens
• 9:00-10:15AM 'Coaches Challenge' Championship game (timed 30 min halves)
• 11:00AM-1:00PM 2016 Bama Blast TOC Championship game
• 1:30-2:30PM Trophy Presentations and Awards
• 3:00 Tournament and events close
Note: Times are subject to change, depending on the number of coaches