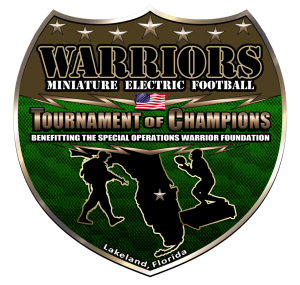 The 3rd leg of the MFCA TOC is here! Come and participate in a truly unique electric football experience! All games in this tournament will be played on scale sized fields! Fields scale are 1/2″ = 1 yard (game board measures 68″ long and 35″ wide). Game boards feature sidelines, two electromagnet motors on each field (no rotary motors). MFCA TOC rules are in effect. All proceeds donated to the Special Operations Warrior Foundation.
Download the Word Doc flyer!
WHAT: 2018 MFCA Warriors Tournament of Champions
WHO: All interested EM-F-ers (Electric Miniature Footballers)
WHEN: January 26-27, 2018 3:00 pm – 11:00 pm Friday & 8:00 AM – 12:00 Saturday
WHERE: Imperial Swan Hotel & Suites
4141 South Florida Avenue
Lakeland, FL 33813
Tel: (863) 647-3000
www.imperialswanlakeland.com
Entry Fee: $30 per person
Hotel PRICE: Standard Room Rate: $65.00 Junior Suite $89.00 King Executive Suite $109.00 Plus 12% Tax & $4.99 Hotel Service Fee
Tell them you are with the MFCA Warriors Tournament (or Electric football tournament)
Itinerary for 2018 (subject to change)
Friday
3:00 pm Tournament opens. Practice, register, check-in
9:00 pm Comedy Club at Winner's Circle Bar & Grill Next door to hotel
11:00 pm Registration and weigh-in closes
Saturday Warriors TOC Tournament
3 Pool Rounds.
20 coach estimate- pools based on coaches in attendance
3 games per coach (timed 30 min halves-no TO's)
If record at end of pool is tied the winner is: 1) head to head 2) total points scored 3) least points scored against
8:00 AM Game Room opens Teams issued
8:15 AM Opening ceremonies and national anthem
8:30-9:40 Pool Round 1
9:50-11:00 Pool Round 2
11:10-12:20 Pool Round 3
12:20-1:30 LUNCH (on own)
1:30-2:40 Round of 16 (timed 30 min halves-no TO's)
2:50-4:00 Elite 8 (timed 30 min halves-no TO's)
4:15-6:00 Final 4 (timed 30 min halves w/2 TO per coach per half)
6:00-7:30 DINNER (on own)
7:30 start Championship (timed 40 min halves w/2 TO per coach per half)
9:00 PM Awards Ceremony
11:59 pm Game Room closes
Check out the photos below from the 2015 Warriors TOC!