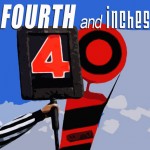 During the course of my first year back in the game I spent plenty of time surfing the web – devouring information on the many leagues and innovations in the game since I last played.  During that time I made contact with the individual responsible for bringing me all the way back to the game – introducing me to league play – Lee "Doomsday" Landry.  Lee reached out invited me to consider joining the then NYEFL (now known as the CNYEFL).  I played my first games in October 2007, meeting the CNY crew (JW, Johnny, Air Jimenez, Thomas, JMac, James and more…
I wonder coaches – who brought you back or how did you return?
Thank you Lee for reaching out and being a good friend – and many thanks to the coaches mentioned above for welcoming me into the fold.