Solitaire Coaches' Points Challenge Update
Week 27
Sunday March 31 – Saturday April 6, 2013
SCPC Official Stats:
15 new games & 3 new teams this week
456 total games, 226 different teams, 19 owners/coaches
13 bowl eligible teams (six or more wins)
11 five win teams still alive
20 four win teams still alive
12 Weeks Remaining
Brian Wittkop's NMEFL led the way again this week with seven games. I believe Brian completed week three of his Big Ten season, and will take a few weeks off now to take care of family matters. When Brian returns to action he should be getting into Big Ten play where teams will square off and the winners will start earning more QWBP, and rise even higher in the rankings. Brian's games this week were: Michigan 21 Kansas State 6, Michigan State 28 Penn State 21, Ohio State 16 Miami 10, Minnesota 28 Auburn 14, Iowa 14 Arkansas 7, Illinois 24 Wake Forest 18, & Colorado 14 Wisconsin 13. Michigan broke the top 100. They are 3-0 #94. The Gophers, Buckeyes, Hoosiers, Wildcats, & Hawkeyes are all also 3-0 and ranked between #133 & #120.
Another upset took place in Helmet Row Show NSIC play. My Bemidji State Beavers defeated North Dakota State 17 – 10. With one more game to go in week two of my league BYU is the only team still undefeated. If UND can knock the Cougars off all six teams will be 1-1.
The DREAM SEASON rolled on in week six. Oakland moved to 5-1 with a shutout win over New England, 21 – 0. The Pats are now 3-3 and their dream is over. The Raiders look strong and could be a factor at #31. Pittsburgh looks even stronger though despite just a three point win, 17 – 14, over a fiesty 2-4 Jacksonville Jaguars squad. The Steelers are now bowl eligible at 6-0 and move up thirteen spots to #21. I can't wait for week six of Dream Season play to wrap up so we can see who's still in the mix. Week seven will surely land a Dream Team in the top ten.
In Western Michigan Al played the first round of his WMLMF playoffs. Your's truly correctly predicted the Zombies and '70's Rams as the winners. The Zombies beat the Ra in an uncharacteristically close and low scoring affair 22 – 21. That '70's Rams, in true WMLMF fashion, lit up the scoreboard, and the Bozos, 55-35. The Zombies, now 4-2, are #35, and the Rams, 6-0 and SCPC bowl eligible, are at #23. Coming up we will see the Rams take on the Cows in huge a WMLMF and SCPC contest.
The biggest action of the week took place in the world of CAPEF. First, the Baltimore Colts advanced to SB23 with a 20 – 14 win over Dallas. The win put Baltimore at 6-1, making them bowl eligible, and putting them in position to break the top ten. Next, the Kansas City Chiefs advanced to SB23 with a 20 – 17 win over Houston. In SB23 the Chiefs pulled off what I thought was a bit of an upset when they handley defeated the Colts 28 – 14. The Colts drop to 6-2 with the loss, but do break the top ten in the rankings, rising ten places all the way to #5. The Chiefs, now 5-1, are setting on the doorstep of SCPC postseason eligibility, and rose an amazing sixty-nine places to #37 in the rankings. Charles has also posted in the forum the teams for his next tournament, SB24, which will be a Hog Leg affair. Unfortunately, neither the Colts or Chiefs will be participating. They will have to wait and hope for a spot in another tournament before the end of June or see their SCPC Championship hopes go unrealized. Of the teams in the SB24 tourney, the New York Jets, 3-2 #48 in SCPC play, are the top ranked team. Good luck to Charles and all his teams.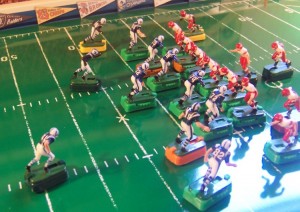 Our top ten is still all 3.3 Limited teams. Mike Veliky, although entering no games this week, is still dominating with seven of the top ten.

The 3.3 Tweaked division is still looking for it's first bowl eligible team. Roomorgans and Owen have the best shot right now, but both have been quiet for a few weeks or more now.

Ray Sugg owns the 4.0 Inclusive division, but his Unlimited teams will have to work to stay ahead of Wittkop's Big Ten leaders.