Solitaire Coaches' Points Challenge Update
Week 26
Sunday March 24 – Saturday March 30, 2013
SCPC Official Stats:
12 new games & 2 new teams this week
441 total games, 223 different teams, 19 owners/coaches
10 bowl eligible teams
13 Weeks Remaining
Week 26 of Solitaire Coaches' Points Challenge competition is recorded and posted.  With only twelve games entered this week I'll take some time to analyze the rankings and bowl picture a bit more in this weeks update.  Interestingly, although there were only twelve games this week they came in from seven different owners making it a very active week in that regard.
I'll begin with CAPEF where Charles, still on the mend from several health issues, played a game between the Dallas Cowboys and Los Angels Rams.  Dallas came out on top 17 – 7.  The Rams are 6-2 74 #10.  I didn't look back to confirm it, but I think they won a SB title several tournaments ago.  They are out of this one now though, and will have to hope Charles starts another so they can get their final two SCPC games in.  The Rams have an outside chance at a SCPCBCS Bowl Game if they get all ten games in and win both remaining, but they'd likely need some help in the form of QWBP.  The Cowboys are now 4-2 49 with the win and sit at #37.  If they can win the current tournament and get deep into the next they too have an outside chance at BCS glory.  CAPEF's Philadelphia Eagles are one place above the Rams in the rankings, but are also out of the current tournament.  Watch for the Colts to make a move.  They defeated the Eagles last week, are 5-1 69, and ranked #16.  They are still alive in Charles' current tournament.  If they can win it they will not only become bowl eligible, but will surely challenge the top five and be sitting nicely in the BCS picture.  Hope you continue to feel better Charles.  Looking forward to more CAPEF action in the coming weeks.
Brian Wittkop Sr. kept his Big Ten non-conference schedule rolling.  Illinois wrapped up week two with a 17 – 10 win over Georgia.  The Illini even their mark at 1-1 with the win and the Bulldogs drop to 0-2.  Three week three games were completed.  Indiana and Northwestern jump to 3-0 with wins over UCLA and Florida.  Big Ten killer Notre Dame took care of business as well with a win over Purdue.  Michigan holds onto the honor of being the NMEFL's top ranked team with a 2-0 mark at #114.  Indiana, Northwestern, and the Fighting Irish are ranked 120, 121, & 124.  Look for Michigan, as well as Ohio State and Minnesota, both 2-0 too, to break into the top 100 when they play their week three games.  If any of the three can win they will move way up.  Unfortunately, we'll have to wait a few weeks to find out who will take control of the Big Ten as Brian will be away for a few weeks spending some time with his father who has alzheimer's.  Well wishes to you and your father Brian.  We'll be here when you return.
In Nine-Man action my Caldwell Busties got their third win of the season-first SCPC win- with a 19 – 17 win over the Wildwood Woodsmen.  The game was played following Velikey's 'short game' system.  I really enjoy this format.  It allows for exciting games in a fraction of the time it normally takes me to play one.  I'll be using it a lot more.  All my nine-man teams will be on the outside looking in if I don't get more games in.  My Camp 53 Shays are in the best shape at 2-0 in SCPC games.  I have two weeks of the regular season remaining.  If I can get both, and the playoffs, completed the Shays have the best shot at reaching the six wins needed for bowl eligibility.  I don't see a BCS birth for any of my nine-man teams.
Chris LeMay's WLAPF had the Chiefs doing battle with the Cowboys this week.  The Cowboys drop to 4-4 after losing to Kansas City 10 – 12.  The Chiefs become just the fourth SCPC team to play ten games -three of them LeMay's-, but like LeMay's Packers they will not see postseason play as they are just 4-6.  Both teams are ranked in the top 20 however simply on the number of games they have played.  SCPC points are earned win or lose so owners who play more games have more highly ranked teams.  Winning teams get QWBP and will eventually rise to the top.  As more teams reach the ten game plateau both the Cowboys and Chiefs will fade in the rankings, also Dallas can't be completly written off just yet..  Chris's Jets are the only 10-0 SCPC team.  They sit at #4 waiting for Chris to play more games that will earn them QWBP.  They have a lot of potential QWBP available, and may challenge for not only a BCS berth, but the regular season title as well.  They are just 11 points back and need just 6 combined wins from the ten teams they defeated to take over the top spot.
A big upset set the stage for what's to come in the Al's WMLMF playoffs.  Since Lynn and myself are now eliminated from the fantasy league playoffs who really cares anymore though, right?  The Toxic Waste, 3-2 put a pounding on Weirdwolf's Werewolf Wolf Pups, 2-3, shutting them out 24 – 0.  Al said, 'This was a shocker and the first shutout in Toxic Waste team history.  I also think it was the first shutout of the Werewolves too.'  Neither team is looking like a factor in the WMLMF or the SCPC though.  The South Park Cows, 5-0 55 #30, and That 70's Rams, 5-0 49 #36, appear to be on a collision course.  Look for them to meet in the WMLMF playoffs with the survivor becoming Al's best chance at SCPCBCS glory.
The road to the SCPC regular season title and BCS Championship still appears to be headed down a road that runs right through the heart of North Jersey where Mike Veliky's Legends Miniature Football League resides.  This week the surging Houston Texans, winners of seven consecutive games, stumbled at the worst possible time.  They fell to the Baltimore Ravens, 13 – 15, when Flacco found an open Mason for a late 45 yard winning touchdown pass.  The Ravens move to 4-2.  Being as they are advancing in Mike's SB 56 tournament they still have a shot.  Any team that advances in this epic tournament has a chance in the SCPC.  The Texans however no longer do.  Their amazing run comes to an end with them at 7-2 111 #2.  It is possible they will still receive enough QWBP to see a BCS game, but with other teams coming on and them sitting out watching it is not likely.  The top ranked San Francisco 49ers, now 9-3, helped themselves out mightily by advancing in the tournament with a 17 – 9 win over the Metros.  The 49ers are relying solely on QWBP at this point to keep them on top.  The 121 total SCPC points they have amassed is more and more beginning to look like the bar everyone else will be reaching for in the home stretch of the SCPC season 1.  If they can win Mike's SB56 tournament they have a decent shot at the regular season title and BCS Championship.  If the 49ers can't pull off a SB56 tournament championship, whoever does could be that team.  Mike has been much more quiet than usual the last few weeks.  I hope all is well with you Mike.
That leaves us with the Dream Season tournament of Ray Sugg where we finally get our tenth bowl eligible team.  The Miami Dolphins move to 6-0 with a win over the slumping Ravens 17 – 7.  Miami is leading the way for the Dream Season teams at #18, and they are the top ranked 4.0 Inclusive team.  Not far behind are the Baltimore Colts, 5-1, whose only loss is to Miami.  The Colts defeated Elway and the Broncos 21 – 14.  The Dream Season still has eight teams with at least four wins to go with one or zero losses.  As these teams go head-to-head in the Dream Season playoffs a ton of QWBP will be up for grabs.  Whoever wins this amazing tournament is sure to be right there with Velikey's top teams contending for SCPC immortality.
If the SCPC were to end today…………
…………Velikey's 49ers would be the #1 team, winning the 3.3 Limited division, and the regular season title. They would square off against league rival Houston in the BCS 3.3 Limited Bowl sponsored by Tudor games.  LeMay and Angell each have several teams in the mix in 3.3 Limited play.
……Ed Morgans would own the 3.3 Tweaked division with the Baylor Bears winning the regular season crown and facing league rival Arkansas in the 3.3 Tweaked BCS Bowl Game sponsored by Buzzball.  No 3.3 Tweaked teams are actually bowl eligible yet however.  Owen's Skulls, although ranked below a number of Morgans' three and four win teams lead the way with five wins.  One more win for the Skulls puts them in the drivers seat at the 3.3 Tweaked level.  Don't count out my Row Show teams here either if I can get enough games in to qualify.
….the 4.0 Division is owned by Ray Sugg with four teams still alive in the Dream Season tournament in that division, three of whom are unbeaten.  The 1972 Dolphins would win as of now and face the 1966 Green Bay Packers in the 4.0 BCS Bowl.  No one else in 4.0 is even close at this point with a few Postal League teams and a couple very quite owners even registered.  bnutt has one game entered and Morgans' OSU Cowboys play here.  I don't know if Ed is going to get to more Cowboy games this season.  If Nutt enters more of his 126 team tournament games we have a sleeper on our hands.  Until then 4.0 belongs to Sugg.
….Unlimited is also still looking for its fist six win, bowl eligible team, but it's just a matter of time.  At this time Sugg is in charge here as well with the 1976 Raiders on top followed by his '85 Bears.  This is far from a one pony division though with Wittkop and Mantaraydre both competing.  Wittkop's Big Ten schedule is sure to produce multiple bowl eligible teams and at least one regular season & BCS contender if he can get it all completed by the SCPC regular season deadline of June 30th.  Dre is quiet but once he gets his Row Show conference going the Colorado Buffalos will be a factor here as well.
Remember, Tudor games is sponsoring the SCPCBCS and the 3.3 Limited Bowl.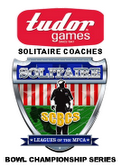 Buzz Ball is our 3.3 Tweaked Bowl sponsor.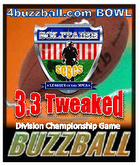 We are still looking for two more sponsors.  With that said the SCPC isn't just for bragging rights.  There are and will be prizes and awards up for grabs.
Of the 19 owner coaches participating xx are what I would call 'active'.  The other's have either registered just a few games and disappeared or were only registered because their team played a team owned by one of the active owner/coaches.  I'd sure like to see a few of these 'inactive' coaches get involved.  Postal League guys are encouraged to enter results of the games they play.  Beanutt where are you?  Batman, are you lost in the Bat Cave?  I'd love to see at least one more coach come on board as well to put us at 20 for season 1.  I know there are other solitaire coaches out there.  It's not too late to join.  There are 13 weeks remaining for you to register games.  Don't be left out.  The final thirteen weeks are going to be very entertaining, and the SCPCBCS, sponsored by Tudor Games, will be amazing.
……