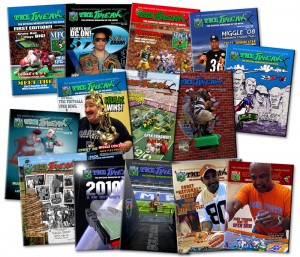 Dear MFCA and any interested MEF'er,
Save the Tweak! Please read.
The staff of The Tweak is currently working on different ideas in order to find a way to continue the magazine at its current level. The key to the magazines survival is participation by the membership, which without pulling any punches, has been sporadic and not at a level that allows the magazine to be successfully produced. We desperately want to keep the magazine and no one wants to see it change in quality or numbers produced. We can get around the costs of production, but cannot get around the lack of participation. If the Tweak magazine is truly important to you than we need you to join the staff.
We need 10 people to sign up as staff member reporters. This means that you will be responsible for 4 articles per year to be submitted on time as a Word document including accompanying high res photographs. These articles can be on coaches, league events, tournaments, how to's, history or any other miniature football related topic.
We also need 1 person with knowledge of the Adobe Suite design software to join the team and would be willing to do layout of the articles along with current designer, David Roller.
We have added Derrick Gross "Drk" and Don Lang "detroitchild" to the the team as proofreaders which will take a huge burden off of Editor, Al Dunham and gives us hope that we can continue, but it means the membership must step up to the plate! I wish we could offer you financial rewards for your efforts, but we have made it this far on an all volunteer basis and intend to make it farther. You WILL HAVE the satisfaction of accomplishing something that very few hobbies can attest to; a high quality magazine that will preserve the history, development and future of this hobby and something that can be looked at with pride by future generations. We are at a crossroads and we need you! Please don't let this magazine end as it has only begun to see its potential.
This is our last ditch effort to relay to you how important this is! If we do not get response from the membership, the magazine WILL GO AWAY in its current form.
The Staff of The Tweak
Editor, Al Dunham
Assistant Editor and Designer, David Roller
Designer, Lynn Schmidt
Marketing Coordinator and Proofer, Don Lang
Proofer, Derrick Gross