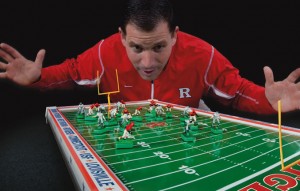 Rutgers football coach Greg Schiano is as enthusiastic coaching an electric football game as he is with his winning football team.
Greg Schiano
Rutgers football coach, 42, Piscataway… in his own words
Interview by KEITH SARGEANT
Photo illustration by MIKE SYPNIEWSKI & JEFF COLSON

WHEN I WAS a player in college I used to work at my high school coach Mike Miello's camp. I really loved coaching the kids. I didn't know it would be a living, but that would probably be the first time I thought about coaching. But when I was a kid, I would be the one that would organize the games, whatever it was – kickball, basketball, Wiffle ball.
BEST ADVICE my parents ever gave me was "Tell the truth."
GOD IS the basis of my life. Really everything centers around him.
MY MOST memorable moment was probably when we beat Louisville in '06. I remember just the whole buildup to the game, how we fell behind and the kids just kept playing. That was really typical of that team, of that season. And it was really neat to see a state have such pride in something. The way the fans responded to that win was really pretty special.
WHEN I WAS a graduate assistant at Rutgers I can remember forgetting the scout-team cards for a period and being scared to death that I was going to be yelled at. So I sprinted back and got 'em just in the nick of time before anyone noticed.
THE MOST memorable sporting event I ever watched was probably Game 6 (of the 1977 World Series), Reggie Jackson hitting three home runs. I sat in the upper deck, three rows from the top of Yankee Stadium.

I THINK YOU can experience life's ups and downs in a more condensed version through sports if the right people are educating you.

THE BIGGEST REASON I like coaching is to see them coming in as young men who are trying to figure the world out and seeing them leave as grown men. That's the best part. That's the real big difference between college football and pro football.
I know for me personally (coaching in college) was what I wanted to do; it was the career and the way of life I wanted.
YOU LIKE WHERE you're used to. I went away for 15 years, and I still think New Jersey is the best place.

I DON'T REALLY have a recruiting pitch. And I know guys will say, "Oh he just doesn't want to …" but I don't. I just try to explain to them what we're about, the people that we are. Because I think it is the people. There are a lot of good schools, a lot of good football programs, but I think our strongest attribute is our people, the coaches that are going to be around to teach you how to be a man.
THE ADVICE I'd give is be great at the job you have. Too many guys are thinking about climbing the ladder all the time. Just do your best at your job and make them find you.
ACKNOWLEDGMENTS: Thanks to Ed Gabel for providing the football player figures for our vintage game board.