L. of Extraordinary Coaches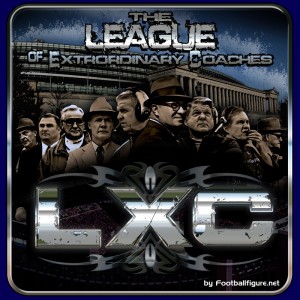 Name of the League: League of Extraordinary Coaches or the LXC
Commissioner: Mrs. Rose Mary Rutledge
Headquarters: Arlington, TX
Ruleset: Shootout-based with Cumulative Weight Distribution Method
Rules are based on the Shootout rule set with player teams allowed
a max weight of 157.50 grams for 35 players and 20 grams for 5
reserve players. Weight can be distributed any way.
If you want one player weigh 40 grams, he can but the remaining
team weight must be distributed between 34 players.
The league uses injuries which can occur during the course of a
game or for weeks or season-ending scenarios.
Travel: 2 trips to Texas
Broadcast: TV Coverage on the Internet
Games Played: In Arlington, TX in NFL-replica stadiums
Coaches: We originally decided to have 12 coaches but added on 2 coaches to bring total to 14. We have 11 of the 14 coaches from different states, ranging from New York to California.
Play begins: Labor Day 2011
Contact: Rosemaryrutledge@yahoo.com for more information.