Deep South EFL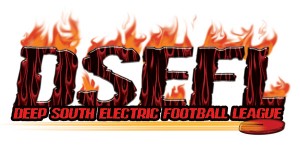 League Contacts: Leonard Crawford 678-654-2620 or email: mrcrawford32@yahoo.com
League Website: www.leaguelineup.com/dsefl
Location: Atlanta
The DSEFL is about fellowship, teaching and learning the value this hobby brings to football addicts like us. Our goals are to provide good competition within our league and other electric football leagues, when we play in their tournaments.
Our league plays at 4.0, using "one stop" for snap of the ball.
If you live in the metro areas of Atlanta, give us a call. We are always happy to have new members join.