Los Angeles EFL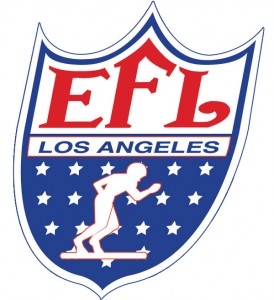 Presenting the Los Angeles EFL established in 2000, from the state of California!
League Contacts: Marcelo Troilo (805) 501-6252 or e-mail: saintcelo@sbcglobal.net
League Website: www.laefl.com
Number of members: 24 Coaches
Locations: Los Angeles & San Diego, California
The LAEFL is a league that encompasses all things electric football, from the modeling standpoint all the way to competitive play. We feature custom poses, all types of bases, custom fields and a championship ring. Our championship game is called "The Show" We are located in Los Angeles, CA and we currently hold our gamedays at the Sherman Oaks Galleria. We have coaches who travel all the way fromSan Diego to play. We are entering our eighth season with fourteen (14) coaches who represent all walks of life. The LAEFL uses the Dallas-Fortworth (DFW) style of play. This style includes game clocks, as well as penalties and fumbles through the use of the "Action Box".