National EFL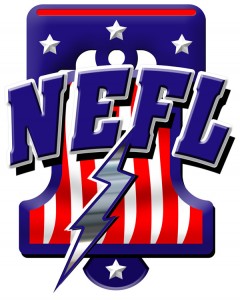 Presenting the National EFL from Philadelphia, PA!
League Contacts: Corey Johnson (610) 587-7238 Email: yizcorey@aim.com
League Website: www.leaguelineup.com/phillynefl
Number of members: 32 Coaches
Locations: Philadelphia, PA
The NEFL (est1998) was founded by Harold King and Marc Thompson. The games are played at the John M. Perzel Center, which is located in the Northeast section of Philly. With coaches from NJ, NY, MD, and of course PA it's one of if not the largest league in the country. We play a full 16 game NFL schedule. Games are mostly played on Sat & Sun, but coaches have the option to play elsewhere. The season kicks off as the NFL winds down. Usually starting in February, right after the Super Bowl. The league continues into the month of June where it concludes with its own version of the NFL classic game. And just like the NFL, the NEFL's finale is an awesome event. You can catch some of the footage at www.youtube.com/phillynefl. If you are in the area please stop by to catch some fierce miniature football action. Visit our web site for info on coaches, stats, pictures, and the rules of the NEFL!