Connecticut/New York EFL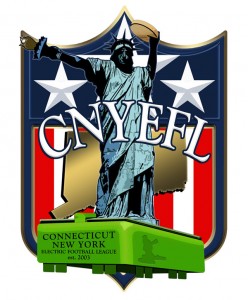 Connecticut/New York Electric Football League
League Contact: Commissioner/John Wharton (203-640-1992)
E-Mail: jw@popeyeschicken-ct.com
Co-Commissioner/Johnny Thomas (914-774-5023)
Co-Commissioner/Robert Slate (845-532-6054)
League Website: http://leaguelineup.com/welcome.asp?url=nyefl
Location: Connecticut/New York Area
This league was founded in (2003) by "Air" Jimenez & Joseph Rivera, our first Commissioner.
Our games are normally played on Saturday with what we call the "BASH".
Most division games are played through out the week.
Scheduled games are played in the following areas; The Bronx, White Plains, New Haven and a new venue called "Toy Wiz" in Naunet, NY.
We play an 11 game season, followed by the playoffs and the "Big Dance" our Championship Game.
Visit our website for information on games played, coaches info, league rules, stats, and pictures from previous seasons.