College Bowl Series of MF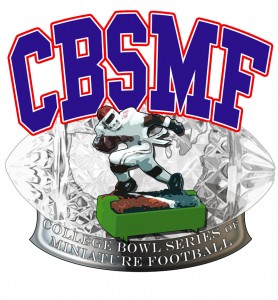 Presenting the CBSMF established in 2009 in Michigan, Texas, California and New York

League Contacts:
CBSMF Commissioner:  Greg Hardmon   419-508-8994
Big Ten Commissioner: Marty Parris  313-363-8686
ECC Commissioner: Joe Greco  908-797-3382
Pac Ten Commissioner: Eric Robinson 323-290-3434
SWC Commissioner: Mike Robertson 512-961-0204
SEC Commissioner:  Rafiyq 404-732-2082
Independent Commissioner: Jeff Eby 831-427-1061
League Website:  http://www.leaguedaddy.com/leagues/?lid=2827
Number of members:  69 coaches
Location: Michigan, Texas, California, Nevada, New York, Maryland, Ohio
The CBMSF will begin its 3rd season in 2010.  The question that will be answered by August when some of the best coaches in the land head to Las Vegas, Nevada to see who will hoist the Rutledge Championship Trophy.
This season the SEC out of Atlanta and the MAC from the East Coast will begin play to show that they have the toughest conference in the country. We enter the new season with the SWC, Big 10, Pac 10, Big East and the Independents.
Championship Weekend will be held in Las Vegas, Nevada the Weekend of August 12-14th, 2011 at the Platinum Hotel.
Hotel info
211 East Flamingo Road Las Vegas, NV  89109
Phone:  702-365-5000
www.theplatinumhotel.com
When reserving your room use the event name: CBSMF Tournament.
Room rate is $109 a night
Weekend Highlights:

Dedicated Refs
Tournament Committee
Championship Stadium
Telecast Game action
Vegas Excitement