Tidewater MFL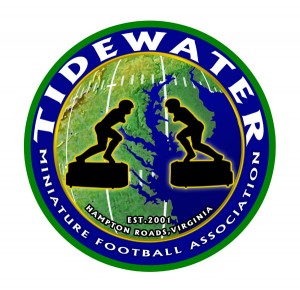 Presenting the Tidewater Miniature Football League established in 2001, from the Tidewater area of Virginia!
League Contacts: Don Smith (757) 407-0926 e-mail: DrBuzznstyne@aol.com
Number of members: 27 coaches
Locations: Portsmouth, Virginia
The TMFL welcomes players of all ages. We have an adult division as well as a kids division. Our regular season lasts from mid March to the end of July, and our games are played on Saturdays. Our league was established in 2001, and has yet to have a back-to-back Champion. Though the competition is tough our weekly gatherings are catered events that generate a party atmosphere conducive to genuine fellowship. Our league is located throughout the Tidewater area ofVirginia. We have 27 members in the adult division and our league has been in existence for 6 years. The TMFL uses the Divider style of play and are the originators of the Fumble-Man rule, and Offense and Defense in the Dark and Light jersey concept that most tournaments use today.