Baltimore Metro EFA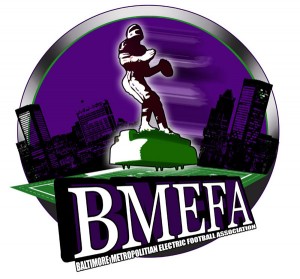 Presenting the Baltimore Metropolitan Electric Football Association established in 2006, from Baltimore, Maryland!
League Contacts: Sean Carter 443-597-8653 and Darrian Ross (e-mail: DarrianR@webtv.net)
League Website: www.leaguelineup.com/bmefa
League Statistician: Ed Morgans (edmorgans@gmail.com)
Number of members: 8 Coaches
Locations: Catonsville, Maryland
The BMEFA is currently playing their FIFTH season. Our current coaches include: Ed Morgans, Darrian Ross, Sean Carter, Larry Sharpe, Will Travers, Adrian Baxter, James Martin, and Warren Jefferson.
This season, our league features two 4-team divisions, and teams playing a 10-game schedule. If you are interested in joining us for next fall, or a potential college season in the spring, please call the number above or visit our website for more information.