Tornado Alley EFL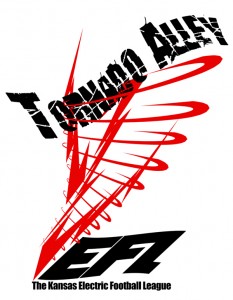 Presenting the Tornado Alley EFL established in 2006.
League contact: Lynn Schmidt (816) 891-0802
Number of members: currently 6 members
Location: Kansas, Missouri, Nebraska, Oklahoma, Colorado, Iowa
The TAEFL was formed in 2006 when long time solitaire players, Bill Brent and Terry Redding joined with new players Geno and Flynt Hendricks and veteran coaches Lynn Schmidt and Robert Thomas to form the new league. Lance Williams joined after season one. The league is also the great Plains Division of the NHFL. 2-4 new players who competed in the now defunct Great Plains EFL as well as others from Geno's area are joining for season 2. Any coaches from Missouri, Kansas, Nebraska, Oklahoma and Iowa are welcome in the TAEFL. We play a slightly revised version of the NHFL rules. We allow 3 backs beside the QB in the backfield. We call it the "Stram Rule" in honor of the late Hank Stram. We also play a different OT rule and do not have a layering rule as described in the NHFL rules.