Northern Michigan EFL
Presenting the Northern Michigan EFL established in 2007, from Rapid City, Michigan!
League Contacts: Brian Wittkop Sr. (231) 499-5683
League Website: http://nmefl.webs.com/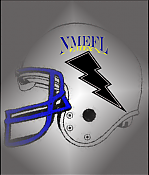 Number of members: 2 Coaches
Locations: Northern tip of Michigan area
Hello, my name is Brian Wittkop Sr. and this is a father/son league and part time solitaire league. If anyone lives in Northern Michigan, then give us a call. We would like to expand our league.