Mid-Ohio MFL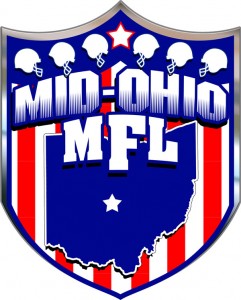 Presenting the Mid-Ohio MFL from Columbus, Ohio area!
League Contacts: Jeff Priest 614-284-6548 email: jlabj90@sbcglobal.net
League Website: http://midohiomfl.webs.com/
Number of members: 9 Coaches
Locations: Columbus, Ohio
Rules feature Turn and Burn passing, unlimited figures and bases, TDQ and TTQB passing and kicking, and stationary safeties
A message from Mid-Ohio MFL coach Jeff Priest…
We are a league that was started in the mid 1990's. I found Aaron Johnson on the Miggle website and he invited me into the Columbus (Ohio) league. He is the reason our league is where it is at. We are located in Columbus, Ohio and we are slowly growing with each season. Currently we have 14-16 coaches with two or more joining next season. They will be my son Ben and Dewayne Jenning's son Darrion. We are a league that we feel is on the leading edge of innovation. We have custom boards makers along with custom figure makers in our league. We will share information with any of our coaches that may not be up to date on the latest bases, figures, etc. We will even give some of the new coaches stronger bases to make them more competitive if they are falling behind and no longer competitive. After all a league is only as strong as the weakest player.
Commissioners
Jeff Priest
Chris Fields
Members
All-American Conference (Central and Western Ohio)
Jeff Priest
Chris Fields
Kavan Miller
Rick DeJong
Frank Jacobs
David Roller
National Conference (Eastern Ohio)
John Martin
Bruce Watts
Nico DeJohn
Anthony DeJohn
Bill Crandall
Steven Foster