Hoosier Heartland EFL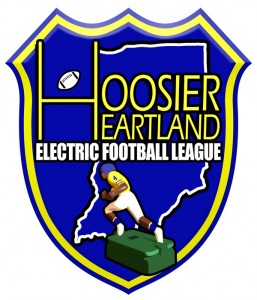 Presenting the Hoosier Heartland EFL founded in April 2006, from the state of Indiana!
League Contact: Matthew Culp 574-722-1204
League Website: www.leaguelineup.com/hhefl
Number of members: 9 coaches total. 5 regular coaches-Matthew Culp, Matt Wavra, Sergei Chernetsky, Mike Robinson and Tim Young. 4 Honorary Coaches-Tim Newell, Mike and Tanner VanDerGoore, Rob Vector
Locations: Logansport, Kokomo, Anderson and Indianapolis, Indiana
The HHEFL was formed actually when Matt Wavra and Matthew Culp got together to begin playing. A friendship was born during the Miggle Convention in South Bend at the College Football Hall of Fame, when the two "Matts" first met. Since that day the HHEFL has been meeting monthly for some great electric football sessions. In September of 2004 Sergei Chernetsky joined the league and in April 2006 the HHEFL opened their website and began planning for their first HHEFL season. Mike Robinson, Mike and Tanner VanDerGoore joined in 2006 and Tim Young joined in 2007. Currently, the HHEFL plans on their next season to begin in October 2007. Everyone is welcome to come join our league and share in the electric football experience.