From: otrsportsonline
By Micah Warren on Feb 20, 2012
Philly NEFL kicks off its Electric Football seasonRemember Electric Football? My grandfather Fred got me a Tudor Games EF board when I was about eight or 10 or whatever. Don't really remember how old I was, but I know I had a blast with it even if I didn't have a clue how to pass. My friend around the corner and I spent hours just playing "ground and pound" style.
The game has been around since 1947 and while some may have lost touch with their childhood hobby, it hasn't gone anywhere. There are throngs of people around the country who are as hardcore and passionate about the game as many are about the NFL itself.
This was more than evident last Saturday when I visited the Philly NEFL's season-opening weekend in Northeast Philadelphia with OTR's own Jason Ashworth (you may know him better from ESPN Radio's 97.5 The Fanatic in Philadelphia).
Corey Johnson was our gracious host and we had a great time meeting the guys from his league. The breakdown of the NEFL shows you just how dedicated these guys are: It's a 32-team league that has 32 coaches representing all of the NFL teams, and they play a full 16-week schedule. And quite a few of these guys drive up from Virginia every week!
The comaraderie is brilliant and the guys have a great time getting together every week. It's almost like if you were able to have a live fantasy football draft every week at your friend's place. Yeah, it's that great. The competition is intense, and features a multitude of play styles and schemes. These guys are good…really good.
Sweetness 300×224 Philly NEFL kicks off its Electric Football seasonAnd it's not just the actual competition that these EF'ers get into, you have to see the augmentations that some make to their players. It's not borderline artwork…it is artwork. As if painting so adroitly on such a small figure isn't hard enough, they also break the players apart physically to change the arms, hands and any other parts they think need to be altered. It's truly amazing what they do with such small canvases.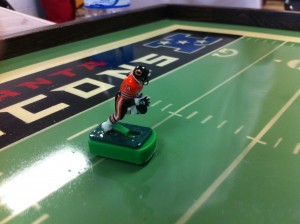 So, if you used to play Electric Football and haven't seen it in a while, it's worth looking into. There is probably a league in your area that would welcome you with open arms. It's a great community all over and the Philly NEFL embodies that. We wish them all luck in their season and just hope that there aren't any serious injuries on the field.
If you want to see the latest on what's happening in the Electric Football world, check out the Facebook page for Tudor Games. Tudor Games' regular website is being updated, but that will be a great place to get all of the latest information as well. And of course you can follow Tudor on Twitter as well: @TudorGames
Seriously, it ain't your dad's version of Electric Football anymore, check it out.