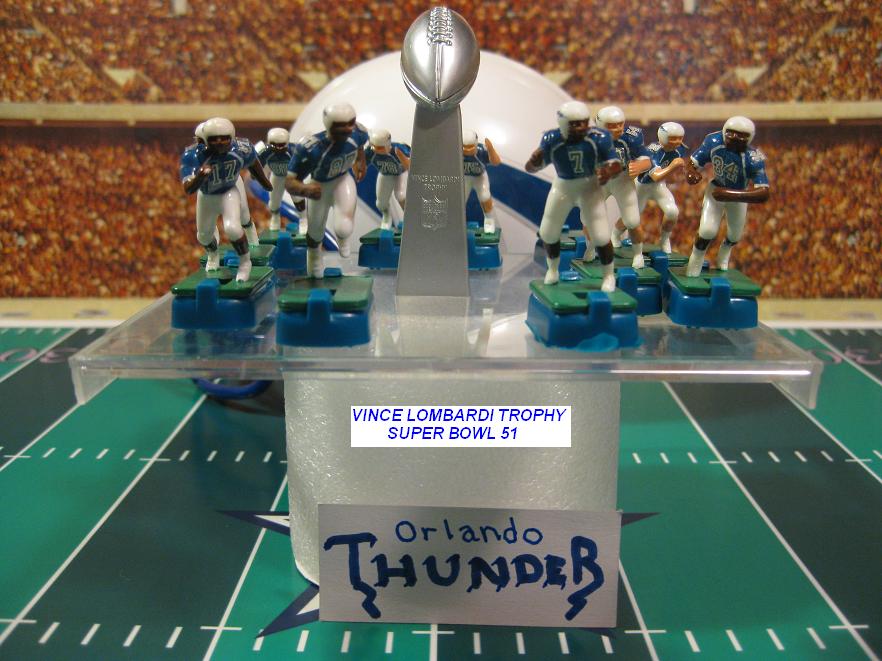 TODAY IN THE NJLMFL- SUPER BOWL 51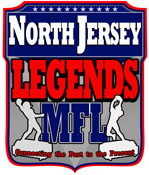 AFC- OKLAHOMA LONGHORNS vs NFC- ORLANDO THUNDER
SITE- BANK OF AMERICA STADIUM- CHARLOTTE, NORTH CAROLINA
Charlotte North Carolina is the heart of NASCAR racing and when the Oklahoma Longhorns kicked off to begin Super Bowl 51 it was like someone waved the green flag. This game was about speed, speed and more speed as Orlando and Oklahoma put it into high gear and took off. There were several lead changes and halftime was like a long pit stop. Big play after big play neither team could stop each other as things heated up. There were late game heroics and when the checkered flag was waved and the smoke cleared it was the Orlando Thunder who got to go to victory lane as Super Bowl 51 Champions with a 42-35 win
1st Half
Orlando won the toss and took the ball as Kevin Williams got it out to the Thunder 33. On Orlando's first play Michael Vick hit WR Bernard Berrian for a 30 yard gain to the Oklahoma 38. After Rickey Williams gained a yard Vick threw a swing pass to his other RB Ryan Grant who took it 26 yards to the Longhorns 11. Rickey Williams scored the games first points on an 11 yard run to make it 7-0 Thunder. Greg Pruitt took the kick for Oklahoma but only got it out to the 15 and it looked like the Longhorns were in trouble early. Longhorn QB Bert Jones handed off to the veteran RB Duane Thomas off left tackle. A huge hole opened up for Thomas and he flew down the field for an 85 yard TD run and in the blink of an eye the game was tied at 7.
Oklahoma kicker Matt Prater sailed the kickoff out of bounds and Orlando got the ball at midfield. Ryan Grant then ran for 19 yards to the Oklahoma 31 and the Thunder was in business again. On first and 10 Rickey Williams ran right for 3 yards but fumbled and Marcus Wiley recovered for Oklahoma at their own 29. On 1st down Jones hit WR Dwayne Bowe for 19 yards to the 48. The drive stalled and Oklahoma had to punt. Jared Armstrong's punt went into the endzone for a touchback and Orlando escaped after turning the ball over.
Vick went right to work hitting TE Jeremy Shockey for 23 yards to his own 43 as the 1st quarter came to an end tied 7-7.
2nd Quarter.
On 3rd down Vick took off on a 12 yard run but was stripped of the ball and Chad Hennings recovered for Oklahoma on their own 49. On first down Duane Thomas ripped through the Orlando line again and 51 yards later Oklahoma took the lead. Thomas had 2 carries and 2 TDs. Oklahoma led 14-7 just a minute into the 2nd quarter. Orlando came right back. Starting at their own 43 Vick hit on passes to Williams, Grant and then Berrian down to the Longhorns 14. Ryan Grant scored on a 14 yard run on the next play and we were tied at 14 with 6:17 to go in the half. The race continued when Greg Pruitt took the kickoff at his own 18 and ran it back 68 yards to the Orlando 14. The Thunder defense held their ground on three straight plays. Matt Prater booted a 27 yard FG to put Oklahoma back ahead 17-14 at the 2:07 mark. Orlando got the ball back after a touchback. Vick found Jeremy Shockey for 13 yards on 1st down to the Orlando 33. On second down Vick was able to gain 7 yards to the 40 and Oklahoma was hit with a personal foul penalty that took the ball to the Oklahoma 45. Vick then did what Oklahoma feared he would do and that was break containment for a big play. The big play was a 46 yard TD run by Vick and Orlando went back up 21-17 with just :37 left in the half. Oklahoma could not get in scoring position so we reached the half with the 6 ½ point favorite Orlando Thunder ahead 21-17.
2nd Half
After the long halftime break Oklahoma picked up the game like they never stopped. Pruitt returned the kick to his own 38 and Jones went to work. He hit Roddy White for 25 yards on the first play down to the Orlando 37. It was once again Duane Thomas time. Thomas found another gaping hole and shifted into high gear on a 37 yard TD run his 3rd of the game and just like that Oklahoma passed Orlando with a 24-21 lead. Back came the Thunder. Vick was red hot. He hit Williams for 7 yards then Berrian for 13 and then a third to Braylon Edwards for 17 yards and the Thunder were at Oklahoma's 39. After a 3 yd gain by Grant his fellow back Rickey Williams got his turn to take the lead and he did with a beautiful 36 yard TD run giving the lead back to Orlando 28-24 with 7:18 left in the 3rd quarter.
Bert Jones went back to work at his own 38. After Clinton Portis was stopped for no gain Jones hit Bowe on the next play for 22 yards to the Orlando 31. Oklahoma got as far as the Thunder 8 yard line before the drive stalled and Matt Prater kicked his second FG of the game from 28 yards on the first play of the 4th quarter and it was Orlando 28 Oklahoma 27.
The Final Laps
Kevin Williams returned the kick to the Orlando 40 and the Thunder had great field position. Rickey Williams had a short gain on first down to the 42. On the next play Vick hit Berrian on out pattern for 11 yards to the Oklahoma 47. Things nearly spun out of control for Orlando when Ryan Grant fumbled on the following play. Orlando was able to recover but the drive was halted and Orlando punted pinning the Longhorns back at their own 9 with 8:48 left to play. Duane Thomas gained 3 yards to the 12 and then Jones misfired on two consecutive passes and it was 4th and 8. Jared Armstrong stood in his own end zone to punt but the snap was high and Orlando's Chuck Thompson came racing around the corner and blocked the punt. There was a huge pile up in the end zone and after the officials sorted things out Orlando DB Tenence Newman came up with the ball for an Orlando TD. The extra point made it 35-27 Thunder with just 5:35 to go in the game.
Oklahoma wasn't finished yet but things looked bleak when Greg Pruitt muffed the kickoff and had to scramble to recover at his own 6. Jones had 5:26 and 94 yards to go with 2 time outs to tie the game. A short pass to Thomas got it out to the 13 but he fumbled. Clinton Portis who did little all day made a game saving recovery at the 11. Bert Jones then threw a great pass to Bowe hitting him in stride and Bowe got it out to the Longhorn 41 and got out of bounds with 3:22 to go. Jones had to scramble on the next play and he gained 5 yards to the 46 but had to burn his second time out with under 3 minutes to play. Jones took the next snap and rolled left looking deep. With his receivers all covered deep Jones threw a middle screen to Duane Thomas. Thomas made a spectacular run through the Orlando secondary avoiding 4 defenders and went the distance 54 yards and his 4th TD of the game tying a Super Bowl record. It was now 35-33 Orlando with 2:24 to go and Oklahoma needed the 2 point conversion to tie. Jones took the snap , made a one step drop and fired a laser hitting Bowe between the numbers on a quick slant and the game was tied at 35.
Homestretch
Prater kicked off and Kevin Williams returned the ball to his own 37 with 2:18 to go in the game. It was looking like this game was heading for overtime. On first down Vick looked left and threw the same quick out pass to Berrian like they did earlier. This time Berrian turned the corner and broke down the right sideline with 3 Oklahoma defenders chasing. The speedster Berrian hit the gas and was out of sight passing the entire field. Bernard Berrian crossed the goal line in full speed for a 63 yard TD and then celebrated by spiking the ball over the crossbar. The officials in black and white rose their arms signaling a TD like it was the checkered flag. Orlando took the lead 42-35 with 1:54 to go in the game.
 Oklahoma still had enough time on the clock and 2 time outs to come back. Pruitt returned the kick to the 42 so Oklahoma had good field position with 1:30 left. On first down Jones was hurried by Charles Haley and had to scramble. Jones gained 2 yards to the 44 but had to use his second timeout with 1:09 left. On second down Jones again looked down field and once again dumped off a safety valve pass to Thomas. Orlando did not let Thomas escape for a big gain this time but he did get 13 yards and a first down at the Orlando 43 with just :46 to go and the Longhorns had to spend their last time out. Bert Jones took the snap rolled left and found Roddy White open on the right sideline. Jones used his strong arm and threw across the field and hit White around the Thunder 22. White was nearly caught from behind inside the 15 but a good camera shot showed the defender missed. White crossed the 10 when DB Darren Woodson came flying in from the left and took White down at the 8 yard line. With no time outs left Oklahoma desperately tried to line up and spike the ball but time ran out before they could as Oklahoma ran out of gas just 8 yards short of the finish line.
VICTORY LANE
It was a crazy scene as the Orlando players ran on the field to mob Woodson for his game saving tackle. The Orlando Thunder became the first of the new expansion teams to win a Super Bowl with this wild 42-35 victory over the Longhorns of Oklahoma. The Thunder then took to the grand stage to receive the Vince Lombardi Trophy as SUPER BOWL 51 CHAMPIONS. There were many great plays made by Orlando by many Orlando players but nobody stood out more than Oklahoma's Duane Thomas who scored 4 TDs and had 175 yards rushing and another 97 receiving for a total of 272 total yards of offense. Thomas nearly won the game single handed and became the first player to win Super Bowl MVP playing for the losing team. In true Duane Thomas fashion he refused to come back out on the field to accept the award. It was given to him later in the Oklahoma locker room. The tight lipped Thomas said later on that" the award means nothing if you lose the game and I ain't going to no f….ing Disneyland". Thunder head coach Jimmy Johnson won his second Super Bowl ring with 2 different teams winning one earlier with the LA Rams. A parade is scheduled through the Magic Kingdom for the newly crowned champs from Orlando.
Scoring
Oklahoma   7-10-7-11…..35
Orlando      7-14-7-14……42
1st QTR
ORL- Williams 11 yard run (Keading kick)…………………………..7-0      8:20
OKL- Thomas 85 yard run (Prater kick)……………………………..7-7      7:33
2nd QTR
OKL- Thomas 51 yard run (Prater kick)……………………………14-7      13:59
ORL- Grant 14 yard run (Keading kick)…………………………….14-14      6:17
OKL- Prater 27 yard FG………………………………………………17-14      2:07
ORL- Vick 46 yard run (Keading kick)………………………………21-17        :37
3rd QTR
OKL- Thomas 37 yard run (Prater kick)……………………………..24-21      13:00
ORL- Williams 36 yard run (Keading kick)…………………………..28-24       7:18
4th QTR
OKL- Prater 28 yard FG……………………………………………….28-27      14:57
ORL- Newman recovers blocked punt in endzoe (Keading kick)    35-27       5:35
OKL- Thomas 54 yard pass from Jones( Jones to Bowe 2 pts)      35-35       2:24
ORL- Berrian 63 yard pass from Vick (Keading kick)……………….42-35      1:44
Stats
Rushing
Oklahoma
Thomas 6-175  3 TDs
Portis 2-(-1)
Jones 3-7
Orlando
Williams  10-82  1TD
Grant  7-74  1 TD
Vick  6-81  1TD
Receiving
Oklahoma
Bowe  4-78
White 3- 65
Thomas 5-97  1TD
Orlando
Edwards  1-17
Berrian  5-127 1TD
Shockey  2-36
Passing
Oklahoma
Jones     12-17 191  1TD  1 sack (Casillas)
Orlando
Vick   8-10 180  1 TD  1 FUM Lost
Oklahoma                         Orlando
       10         First Downs      12
      181        Rushing Yds    237
      191        Passing Yds     180
      372        Total Yds          417
        15        Penalty Yds         5
          0        Turnovers           2
Game MVP- Duane Thomas- Oklahoma* ( 1st MVP on losing team ).