A few months ago, Weirdwolf sent me an email with the name and contact information of a prospective coach, Wayne Williams, in Hendersonville, TN. which is located just north of Nashville and about 30 minutes from where I live. When I did finally get to talk to him, turns out he lives in Henderson, TN (not Hendersonville) which is located in West Tennessee, about 2 hours from the Nashville area, but just happens to be where my youngest stepson is attending college at Freed – Hardemon University. This also happens to be where my oldest stepson attended college so I had been going to that area several times a year over the past 10 years. This is also where their father, my wife, her sister and brother and even her mother had attended college. So needless to say, I am very familiar with Henderson , TN, that area and the many ways to get there from the Nashville area. Even turns out that the Sunday evening I did first talk to Wayne on the phone, I had just gotten back form Henderson attending a function at the college.
Now Henderson is a very small town and other than the college, not a whole lot going on there, but turns out that Wayne is a retired teacher from the Metro Nashville school system so I can certainly understand the appeal that Henderson might have. It is a very quiet and peaceful place to retire too.
When I first talked to Wayne, he asked me if I had ever played with the older one piece, 2 dimensional plastic figures that came with the games in the late 50's. Being a collector, of course I had some of these figures and one of the old game boards, but I had never really used the old figures and I told Wayne that they were boxed up in storage somewhere and that I would have to dig them out. I had been using the game board with some Miggle figures and bases for my Tudor Classic 1933 – 1939 NFL Solitaire League and I tried to explain to Wayne the many advances that have been made in the game and figures over the last few years and that nobody really used the old figures any more. But after some coaxing, I agreed to dig them out and I would give him a call when I found them.
A couple of weeks ago, I finally dug out the old figures, gave Wayne a call and we set up a time to get together. Since the last time we had talked, Wayne had been buying more game boards and figures off ebay and had painted up some of the figures into teams and had also gotten one of the more recent Super Bowl games that Miggle had produced (the Titans vs Rams Super Bowl XXXIV edition).
This past Saturday morning, I headed out to Henderson and when I arrived and drove up the drive to Wayne's house I noticed his truck in the drive with a Titan's logo on the door. I knew right then this was going to be a good time. Wayne came to the door with a t-shirt from a Raiders vs Titans game and I had worn my Tennessee Oilers t-shirt. Met Wayne's wife Penny and she committed on how she liked my Oilers t-shirt and turns out Wayne and Penny are huge Titan's fans, PSL owners and season ticket holders and make the trip to Nashville for every Titan's home game. This was just getting better and better by the minute!!!!
NOW, the purpose for this article (apologies for the long introduction).
Wayne had painted and created 4 teams out of the old figures. Using very simple paint jobs with very clean paint lines Wayne had created the Titans, Raiders, Ravens and Steelers in uniforms that could have very well been worn by these teams in the 1920's, the early days of the NFL, if they had existed at that time.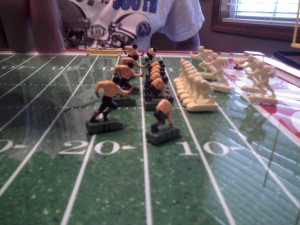 It was obvious he had spent a great deal of time and effort in creating these teams and testing and tweaking their performance (YES!!! These figures can be "TWEAKED"). I did have two teams that I had but together, but had not painted them and had done very little to tweak them.
We agreed to play by some of the old Tudor rules but to play on the newer Miggle Super Bowl game board. We used a single possession per quarter timing method but without kickoffs (just start from the 20) and front of base tackling. Turned out to be some very exciting games. Every play was a run using old single wing, double wing and power T offensive formations and 6-3-2, 6-2-2-1, and 7-4 defensive formations. NO PASSING !!! Good old fashion power running, plastic smashing electric football!!!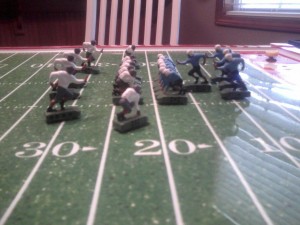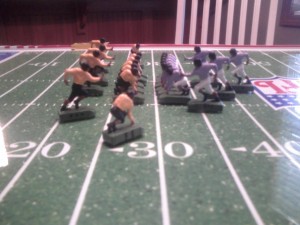 What did I learn from this? That even the older Tudor game sets (that I thought were only good for collecting) can still be used to play some very exciting electric football games.
Wayne and I will be continuing this style of play by creating the Tudor Classic Retro Electric Football League of Henderson, TN. We would like to invite anyone interested in joining this league by making a trip to Tennessee and Henderson or Nashville to experience this exciting style of play or even start your own "CLASSIC RETRO LEAGUE"