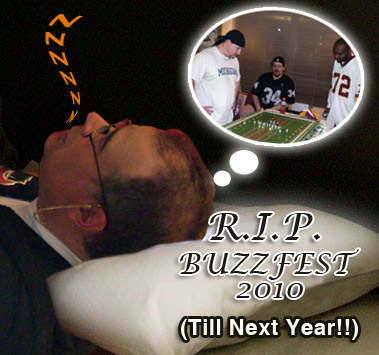 Okay all you Em Effers, ………………..My good friend CorEy Johnson asked me to post this as a blog, instead of just on themessage board.  Since he and I are MFCA comrades,  I obliged him.
There will be no BuzzFest this year.  I have other things that require my time, and as much fun as it is, …………this event is not on my priority list.  Family and work comes first.  Not that the BuzzFest isn't work, because, I can tell you it is a hell of a lot of work!
Mondays after the BuzzFest, I am usually spent.  I'm too tired to perform my teaching duties, which makes it not only a long day, ………………………….but it turns into a long week as I have to play catch up by the end of the week.
And that is after the event.  Pre-event time spent starts at the end of January and goes up to the event.  That's evenings and weekends.
"If a man is called a streetsweeper, he should sweep streets even as Michelangelo painted, or Beethoven composed music, or Shakespeare wrote poetry. He should sweep streets so well that all the hosts of heaven and Earth will pause to say, Here lived a great streetsweeper who did his job well."
Dr. Martin Luther King, Jr.
It's that simple, ………..I can't run the tournament at the high level I have in the past.

I want to thank Mike Pratt, Chris Stacey, Rich Parks, Mike Guttman, Jeff Lau, Ray Fanara, and Paul "Raiderman" Bartels for various degrees of support during all the events that took place.  Summer Slam, WinterFest, BuzzBall conventions, and BuzzFest were all the events those guys helped me make successful in terms of participants' enjoyment.
I also want to thank many of you that keep emailing me about the BuzzFest and telling me it is the best tournament around.  I appreciate your sentiments…………………and you are right,……………. it IS the best tournament going………………maybe next year.
The BuzzBall events introduced things like team inspections, and basic thoroughly explained rule sets.  The BuzzBall Conventions were the first ever of their kind.  No tournament, just workshops all day.  Finally guys had come together to share knowledge, something that was not done years ago.  Now, many folks are very giving of their knowledge and support, so I guess we accomplished our mission.
The evolving hobby lexicon over the years has come out with some good ones from BuzzBall events.  Late nights, cigars, adult beverages and side splitting laughter were all key ingredients to some great terms.  Terms like "Chaloopa" and "Chop Suey Luey" are just two that come to mind.
And I think, Ed "Smoke Stack" Scott is the only Em Effer to be present at all the events!  The first Summer Slam, Ed arrived late after the games had started.  He gave me his entry fee and I when I tried to give it back telling him that we couldn't put him in because the semis had already started, he said, "no you keep it, you are a business man and you need to cover your expense, I appreciate your effort." What class, …………………..
This year, the hotel never got back to me with dates I had sent, after they had asked what dates I wanted.  It was just another thing for me to chase down……… there is that time thing again.
Thank you all for your support.