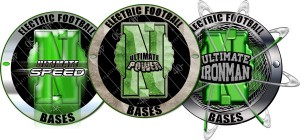 Hello everyone, my name is Norbert Revels. Iif you have the need to upgrade your EF teams and don't have the time to do so, I can help you. I am a top trainer of Electric Football Bases, and winner of numerous nationwide tournaments. I've won the 2005 Miggle SuperBowl, the 2006 buzzBall World Championship, the 2006 Detroit BCS Championship, and the 2007 MWEF College Championship. I am not only one of the top trainers in EF but I am EXTREMLY well rounded in coaching,  winning championships in FOUR DIFFERENT TOURNAMENT FORMATS!
For tweaked bases or to get in my base exchange program, email: explosivechiefs @yahoo.com
Postal Money orders sent to:
Norbert Revels
5230 Trowbridge st.
Hamtramck, MI. 48212
313-873-4613