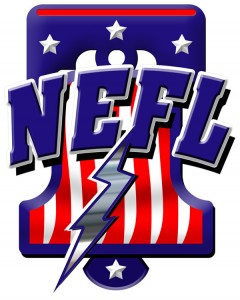 Now we are down to the last group for the NEFL Preview 2010.
We will call this one the "Dirty South" to cover both South divisions…..
AFC SOUTH
Titans – Coach Kelvin Lomax – The 2 time division Champ is a little miffed about being knocked out of the playoffs 2 yrs straight ON THEIR Home field!  Coach K-Lo promises to come back with a revamped titans team looking to make a break through to the title game and to win it all.  Titans feature a balanced attack on offense lead by C.Johnson and a swarming defense.  Maybe going on the road in the Playoffs might get them over the hump.
Jaguars – Coach William Chalmers –  The other son of a legend, Coach William brings his balanced attack to try to knock the Titans from the top of the division.  They beat them up last season only to get bumped out the top spot.  Jaguars are looking feed on the new coaches in the division.
Colts – Coach Floyd Tate* – New coach with experience.  Coach Floyd has been known to not make a playoff run in the past, but that was another league.  This rookie coach is coming in with knowledge of most of the team in the division so they will have a chance to do good things in their 1st season.
Texans – Coach Kenny King *- He too is a son of a NEFL legend, but this young coach is making his return to the NEFL.  If he can regain his footing,  Coach Kenny could make some noise. 
NFC SOUTH
Falcons – Coach Brian Healey –  The Falcons, one year removed from the title game, are looking to regain their form.  Now Coach Brian has his hands full in the division with some experienced coaches coming over to put an end to the lockdown that the Falcons have enjoyed.
Lions – Coach Dearell Brevard ** – Special change for 2010, the Lions will play in the South instead of the North.  This is not your daddy's Lions.  This team can run it with power or toss the ball all over the park.  Coach Dearell needs to stay focused in the Dirty South.  It is a division the could see changes at the top.
Panthers – Coach James Nicholson-  Panthers franchise has gone thru some problems over the years but they thick that Coach James can turn them around.  This coach has been a long time coach in this league, but has not won in a long time.  Featuring a strong running attack, they hope to open up some space in the division.
Saints – Coach Steve Brown *-  this team has not been run the way a team should.  Now that Coach Steve is on board, maybe the Saints will get some wins in the division.  They feature a controlled passing game and big play defense looking to knock off the top teams along the way.
Scoop Clayton with the story………