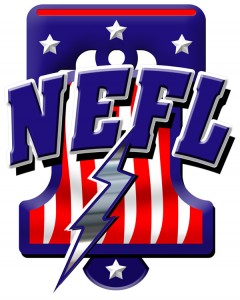 Well, here is the next installment of the NEFL Preview of the 2010 season. One thing I forgot in the introduction, we will be using the 2007 NFL season schedule for our league. You can find that schedule on NFL.com site if you want to follow or just see some of the matchups for the season.
AFC NORTH
Ravens – Coach Glenn Phoenix – Ravens are one the most experieced teams in the NEFL, having played in and won Championship.  Coach Glenn will toss the ball all over the yard if you let him.  The Ravens' defense is fast and plays hard.  60 minutes of football with this team.
Bengals – Coach Norris McGraw – Another of the league's most experienced coaches of this style.  Power running and tough defense is the staple of the Bengals.  It has been a long time since they won the title but are coming back to cause some havac.
Browns – Coach George Diamond* – Another heavy-hitter to cause the AFC to be the toughest of the 2 conferences.  Coach Rip will employ a strong and fast team to complete in this division.  An unkown in this league, but not around the counrty.
Steelers – Coach Ernie Grice – Once was the Mighty Steelers team, is now just a shell of themselves in the NEFL.  One time Champion,  Coach Ernie has plans to return to the top of the division as well as the top of the league.  Featuring their version of the 3-4 pressure defense and a passing attack on offense they are hoping to get some coaches nappin' when the Steelers come to town.
NFC NORTH
Bears – Coach Big Keith Chalmers – The defending Champion, Coach Keith is always a team that you have to get past to make the title game.  One of the true legends of the game, has both of his sons coaching in the league.  This team will mix it up with you.  Teams are always fast and have playmakers all over the field.  Still the team to beat.
 Packers – Coach Andrew Stewart – This is one of the better teams in the league, but do to some crazy actions from Coach Andrew causes this team to lose the close games.  If Coach can keep his mental game on the field and focus on the task at hand, they could have a breakthrough season.
Vikings – Coach Edward Scott – One of the oldest coaches in the hobby and of this league, Coach Ed has a tough road in thias division.  Featuring a power running game, Vikings will need to develop the passing game to upend the two top teams.
Buccaneers – Coach Greg King –  In a move to improve the NFC South, the Lions and Buccaneers have swithed divisions.  Coach Greg has his work cut out for him.  In what could be the toughest division in the league, he will need all the team speed just to stay in games within the division, much less the rest of the conference.  
next Preview will be the West