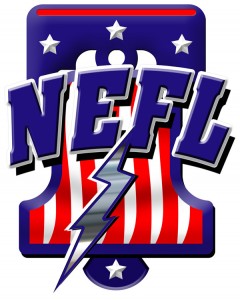 NEFL OPENING WEEKEND
February 8 – 10, 2013
Co-Written for the MFCA by this hobbies' gumshoes and scribes
Edward J. Scott aka "Smokestack" and Corey Johnson aka "National"
The Place:
The Holiday Inn Express Philadelphia Airport in Essington, PA was the host site of the venerable National Electric Football League opening weekend. Now in its fifteenth (15th) year of continuous play, this setting was selected for its proximity to the airport (about three miles), major routes of travel, and was strategically selected as this location was accessible to many of the coaches who travel from all points west, south, and north of Philadelphia.
The venue could not have been better. Where else can you get decent accommodations for south of $90 per night? The folks at both the Holiday Inn and the adjoining hotel, The Airport Waterfront Inn, welcomed the participants and guests on Friday with large block letters on the hotel signage in front of the entrance to both hotels. A classy act which was a welcome sight and harbinger of what would come next.
Another great attraction was the Deck at Harbor Pointe a nightclub and bar/restaurant which was adjacent to the Waterfront Inn and only a stones throw from the host hotel.  We found out later that the Deck had an expansive outdoor mulch-tiered deck with amazing and expansive views of the Delaware River. If you were scouting locations for a Girls gone Wild video– this would definitely be on your short list. We plan to come back when the weather breaks. If you are into watching jets and plane take off you couldn't have asked for better sight lines. More on the deck later.
The Back Story:
So much has been written about this 32 team league that another story would only be a rehash of years past. This year was different. The entire weekend was designed to bring everyone together in close quarters and to maximize the time. Did it succeed in strengthening the already tight bonds between coaches? Absolutely. This was a modern day version of a slumber party for adults who just happen to have an extreme passion for electric football. The many friends, family, invited guests, and curious on-lookers who happened by over the two- day event were not disappointed as they were able to get a sense and flavor of what the NEFL is truly about.
The OW (Opening Weekend) as I like to call it – actually started earlier in the week as the competitive juices of a few coaches bubbled over. They literally could not wait for OW. Cliff Gibbs' Redskins defeated David El's Rams by a score of 13-12. In the downstairs lair at the King household – Kenny King's Chargers defeated Harold (his pops) King's Chiefs 28-21. No allowance for Kenny this week.
Friday saw check-in and lots of hugs and anticipation as the early arrivals made their way to the hotel. The entire weekend was dampened somewhat by the threat of heavy snow fall and wintery conditions from the west to the northeastern coast. This ultimately derailed the travel plans of a few coaches who could not make the event. While we missed them – we knew that they had made the right decision. Snow fall was measured in feet instead of inches in many parts of the country.
By the end of the weekend (sometime late Sunday evening) an aggregate of 40 games (I didn't stutter) had been played with some coaches competing in as many as six games! With the economy still struggling along and gas prices surging towards $4 or more – many of the travel coaches saw this as an opportunity to get ahead of the 16 game season. The NEFL runs from early February and culminates in the Super Bowl in June. So, it was not surprising that coaches took advantage of having a captive audience in a single venue. While many games were confirmed in the weeks leading to the event – some games were impromptu duels as a few coaches could not make the affair.
The Recap:
So, if you haven't read the scores, tweets, pre-press releases, texts, and E-Mails I will give you a two-minute drill of what happened.
AFC East – The Jets and Bills were idle. Jerry's Patriots took one on the chin from the Bengals. Hough's Dolphins played three games but came up short in all three. Gave the Vikes fits.
AFC West – Baxter's Raiders got five games in but lost three of them. Kenny's Chargers got in three games – losing one. Harold's Chiefs played in two games (one at the OW) splitting them. Jack's Broncos plotted a course before the storm grabbing a unplanned room stay and returned this season. He took two lumps. Word is he has the horses – they just need a bridle.
AFC North – Steelers were idle. Glenn's Ravens played were three for three with wins. Will's Browns played three games but lost all three. Norris' Bengals split two games.
AFC South – Will's Jags played four but loss a heartbreaker to the Colts but won the rest. K-Lo's Titan's won two games including a signature win versus the Raiders, but lost to the Giants. Ben's Colt's took three signature wins. One had a questionable call but a win nonetheless.
NFC East – With the Cowboys saddled up until the next play date. We saw Myron's Eagles play the Bears tough but was on the short end versus the Pack. Joe's Giants played three games besting the Titans but falling to the Jags (played real tough) and the Colts.  Gibbs' Skins opened Friday with a win over the Rams and then lost to Bears by ten points.
NFC West –  Corey's Niners lost to the Seahawks in a tight game and fell on the Saints sword as well. Jamie's love fest continued with big wins over the Niners, Saints, Chargers, and Rams losing only to the Bears. Karim traveled a few miles to get a loss to the Raiders but was seen as very active at various NFL combines with his huge cache of tweak tools in tow. Upstart El's Rams took three body blows over the weekend playing the Skins, Lions, and Raiders tough until the final count.
NFC North – Keith's Bears got six games in winning four of them but took two division losses. It is way too early though. The fork is out but has not been used. Drew's Packers trounced two of his four opponents and had the rules committee in a late night session thinking about the mercy rule in three of them. Stack's Vikings not only fell on the Saints Sword but was gored by it and run through the streets for all to see. . He made it fun by giving us an early in the season Take it to the "House" (or should I say Home) Dance song in the loss. He rebounded and won his next three (including stealing a twinkie from the Bears) although the gallery may say strength of schedule was a factor. The Bucs led by Greg King were fearless and didn't back down to anyone. However, he left two of them real bloody. We had to check for a pulse after one of them. To his credit – he played the Bears tough. I can tell you that there is more than five wins left in this big lug. Many thanks for the meals. Now we will all be big lugs.
NFC South – The Saints led by the young upstart Ephraim Daniels who made a early and legitimate claim to post-season play by slaying not one– but three dragons including the writer (Smokestack of the Vikings), Brevard's Lions, and the Nat One's 49'ers – losing only to the Jamie's Seahawks. Not bad for a weekend's worth of work. Healey came with Family in tow (not to be confused with Vanilla Ice – he is known for hosting and cavorting with many darker-skinned brothers). He found time for three games picking up a win over the Browns, but falling to the Lions and Ravens. Look for the Heals to get back to the basics real soon. Brevard is busy planning the Clash but found time for three. He was in a dog fight for most of the game with young E but dropped his head for a second. He ended up getting bit on the juggler vein like many other veteran coaches did.
Before we turn to the shout outs and thank you notes – I want to encourage you and your leagues – be they six guys or sixteen to plan your get league togethers carefully. Try to get off-site if you can so you can live, eat, and play in veritable harmony for 48 hours or so. If you haven't bonded with your clan (Philly coaches have over 15 years of  history with many having played in early leagues), then consider an off-site retreat. Do the home work first. The NEFL marches to the same beat as we have a well-developed rule set and written standards for ethics and behavior both within the room and outside of it. We operate with a honor code. Break it and you could be shunned like the Amish. This was the key (in my mind) to making this event a success. We danced to the same beat and grooved to the same buzz…
The Shout Outs
Where do we start? We had so many brave the bad weather. From friends and family of our coaches to former NEFL coaches to the true EF heads that ventured from NY, Texas, Detroit, Md, NJ, DC and of course Philly.
Our official league mascot was in the building…(he's an inflatable referee) still haven't chosen a name yet.
A big hit were the air brush shirts done by National's buddy. He was not present but some his masterpieces were.
And all this was inside the game room! There was a cheese steak run. We ordered 14 awesome sandwiches from Tony Luke's…very tasty.
The fun outside room included a Mini herf overlooking Waterfront deck, in various rooms – herf's with no cigars, visit to Harrah's casino in Chester, Pa. In room combining and scrimmages. Lord knows what else happened.
Like the Stack says – Since it IS 2013 you know…. "What happened outside the game room at Essington stays in Essington…."
Give many thanks to all who inquired, wanted to know, were patient and waited for the story that you knew was coming… Tant-Too….
Electric Football in Philadelphia is a year round event with the NEFL!  Learn more about the NEFL by contacting Corey Johnson at: yizcorey@aim.com or check out our Facebook page. Philly NEFL