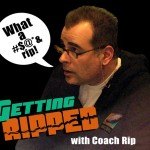 One has to really wonder what is behind the ncaa banning messages on eye black worn by players.  The ncaa is nothing but a group of money grubbing elitist, many whom never played a down of football  in their ivory tower lives…………………much less any type of sports.
Football players are kids that put everything on the line and make their schools millions of dollars.  The reason the kids are who they are at this point is that they are individualists.  Sure many get scholarsips, ……………and I think they get some stipend money…………but they should get more………
Now the ncaa wants to further strip them of more of their individuality.  I could be wrong, …………………………where have you heard that before????, ………………………. But I think this has been brought on by Tim Tebow's latest commercial.   I'm not going to get into politics, but it seems like a person's stance on a controversial topic has spilled over to an eye black censorship issue.
Just like when I taught in public school, …………..A kid got reprimanded and sent home for wearing a swastika carved into his arm. One teacher demanded the kid be thrown out of school for good.  I mentioned to him if someone is a jerk, don't you want to see it instead being "surprised" by it??????   You can't throw a kid out for expressing himself can you?

Ladies and gentleman this is ncaa censorship.  I have not seen anything profane on any eye black strips.  Have You???  Another thought is …………………………Does the nfl have something to do with this???
skip bayless on espn said he is all for this due to the "chance" something profane or "gang" messages could be on them or worse yet, a girl's or family member's name……… what a wuss!
Isn't this a coach's responsibility to oversee what players are wearing???  Why all this centralized control????
………………..and by the way ncaa, there are playoffs for all the other college football divisions and not division I, …………why can't you give us what we all want, …………………PLAYOFFS AND A TRUE NATIONAL CHAMPION!  ………………………. Because it's not about the money is it?????