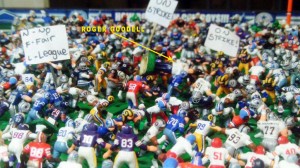 A recent meeting by players from the de-certified Miniature Electric National Football Players Association today escalated into a riot, when Miniature NFL commissioner, Roger Goodell mistakenly showed up at the wrong meeting! You could smell the burning plastic in the air as tempers quickly heated up. The whole building was a buzz and vibrating from the protesters chants and tirades. In the end riot police in 50mm scale had to be brought in to quell the revolt, as the players picked up Goodell and passed him around like a ball of rubber. There was fear that Goodell would not get out in one piece.
This is surely just the beginning, as so much will ride on Wednesday's court ruling regarding the lockout. The violence that took place today is only the beginning to what could be the end of Miniature Electric Football as we have known it!
Thanks to on the spot, MFCA reporter Marlon Brown of JOXINDABOX.net for these live photos from the scene!