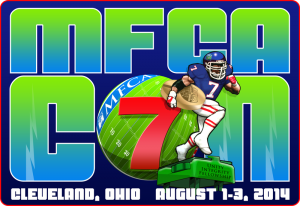 Here is all the info you will need for the 2014 MFCA Convention and TOC and Sundays Tournament of Champions Finals.
The 2014 Convention will be held at the Sheraton Cleveland Airport Hotel, August 1-3!
The Sheraton is located at the airport and includes free shuttle service, swimming pool, hot tub, fitness center and wireless internet.
WHAT: 2014 MFCA Convention
WHO: MFCA members and their guests. All interested Electric Miniature Coaches and Hobbyists
WHEN: August 1-3   5:00 pm Friday – 3:00 pm Sunday
WHERE: Sheraton Cleveland Airport Click here to go to the hotel site
5300 Riverside Drive
Cleveland, Ohio 44135
Tel: (216) 267-1500
Get Directions
PRICE: $97  Tell them you are with the MFCA.
Welcome and Awards & HOF Banquet
Purchase your tickets to the banquet here before July 27. Tickets must be purchased in advance. No tickets may be purchased after the 27th.
Itinerary for 2014 (subject to change)



Friday
5:00 pm Convention opens. Speed, Passing, Kicking and Strength events begin.
6:00-7:00 Welcome Dinner, MFCA HOF induction, awards
7:00-7:30 Coaches Rules meeting!
7:30-9:00 Check ins and sign ups
2:00 am Game Room closes
Saturday Con.7 TOC Tournament
3 Pool Rounds. 40 coach estimate-10 pools-3 games per coach (timed 25 min halves-no TO's)
If record at end of pool is tied the winner is: 1) head to head 2) total points scored 3) least points scored against
8:00 am Game Room opens
8:30-9:30 Pool Round 1
9:40-10:40 Pool Round 2
10:50-11:50 Pool Round 3
12:00-12:45 LUNCH (on own)
1:00-2:10 Round of 16
2:20-3:30 Elite 8
3:40-5:00 Final 4
5:00-6:00 DINNER (on own)
6:15 start Championship
2:00 am Game Room closes
MFCA Fellowship Tourney 4:00-end time will depend on number of entries
Optional for all coaches not in final 8 (replaces the CPC)(timing of games and number of coaches in a pool will be based on number of participants)
Coaches will be divided into pools based on pool play record so that each coach is in a group equal to his abilities. Coaches will play for a trophy in each pool.
Sunday TOC Final 8 Championship for the Ring!
8:00 Game Room opens
8:30-9:40 Championship 8
9:50-11:10 Final 4
11:15-12:15 LUNCH
12:30-2:15 Championship
2:20-3:00 Awards
3:00 Convention closes
Paint/Customizing Contest

We will have 1 class this year. Anything goes on these as long as they conform to human form and body proportion. All figures should be displayed on a base.
Skills Competition
Passing, Kicking, 4.0 Speed, 4.0 strength competitions are offered for all MFCA Members. For rules go here: http://miniaturefootball.org/mfca-league/skills-contest-rules