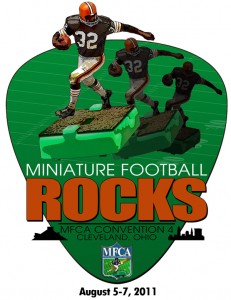 Get ready to rock Cleveland with electric fields instead of electric guitars! The 2011 Convention will be held at the Embassy Suites, Independence, Ohio location from August 5-7!
The convention will again feature all the usual events, CPC Tournament, MFCAL-CPC Championship Game, MFCA HOF enshrinees, Great Tweak Off II, Skills Contests, Painting/Customizing Contest, trip to the Canton HOF Game and HOF Enshrinement Ceremony and of course the MFCA Tailgate Party at the "Parking Czars" just outside of Fawcett Stadium.
For more detailed info visit our 2011 CON page at: 2011 Convention
WHAT: 2011 MFCA Convention
WHO: MFCA members and their guests. All interested EM-F-ers (Electric Miniature Footballers)
WHEN: August 5-7   8:00 am Friday – 5:00 pm Sunday

Start making your RESERVATIONS NOW!
Make sure to tell them you are registering for the MFCA Convention.