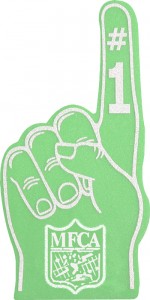 Wow! March Madness is upon us and the field of 64 has been set! The NCAA basketball tournament is awesome.  The field of 64 teams that makes up the tournament each year always generates water cooler debates about who was left out that should have gotten in, who got in that should have been left out, why this team is a number one seed and that team is only a four seed…….the debate rages on.
Why should the NCAA be the only ones with a field of 64 to debate in March?  Hopefully you got the most recent issue of the Tweak Magazine and saw the ranking of the Top 64 Coaches as compiled by our very own panel of experts.
Within minutes of the Tweak coming off the press coaches sent texts and emails, made phone calls, and even hunted down CorEy to complain, rant, and take issue with their placement on the list.  Don't kill the messenger!  CorEy "National" Johnson did not make up this list!  He only scored the votes and tallied the points.
I ask you to put the strife on hold for a moment and instead of looking at your position and saying, "Damn! I'm only number……," be humbled by the fact that your on the list at all.   In order to even appear anywhere in the top 64 a coach had to be placed in the top 20 by enough of the selection panel's members that they ultimately made the Top 64.
Just consider the 40 or more coaches that made some panelists' lists but not enough to make final cut.  Guys like Durwood Lundy, Doug Shanagins and Rick G. just to name a few.  Like one coach said to me, "To be mentioned on any such list is an accomplishment."  Yes indeed, to be recognized by your peers always leaves you feeling warm and fuzzy inside.
One thing to keep in mind is that the data for this ranking was completed around Thanksgiving.  As a result, the league title Joel P. won, and the Miggle win by Jamel G. were not taken into account.  G-Force inventor Geno H. had an awesome run through Miggle, but it wasn't factored in either.  Even the title won by Lomax in the BEFL was too late for consideration.
The judges for this didn't take their jobs lightly either.  There were a lot of erasers and white out being used as each panelist compiled his list!  The coaches that did the judging did their homework too.  Even though they may have never been on the board with every coach they ranked, they understood each coaches abilities and on field accomplishments.
Truth is, you could gather a totally different panel of judges and come up with a totally different list.  If this list had been done a year ago it would be totally different.  That's the great thing about countdowns, rankings, and best of lists; they generate a lot of debate, are always changing, and do wonders to promote the organization or group from which they originate.  When it comes down to it they are just plain fun!
I want to go on record as thanking CorEy with a 'E', aka the F.O.T.H, Nat'l Johnson and his 'expert' panel for putting this together; it looks like it was hard work!  CorEy wanted to thank his special helper, Elf, who really worked hard behind the scenes getting all the names organized.
With all that said……..let the water cooler rumble resume.  Let's debate 64-21!  Who got shafted?  Who is over rated?  Who is happy with their ranking?  And, the most controversial topic remaining….. Who do you think is in the top 20?
Keep things in perspective however and don't forget the whole reason this ranking was compiled, because it promotes our hobby, and our leagues, it encourages getting out, playing different rule sets, and tournament formats.  Best of all, it helps us grow as an organization!
Corey "National" Johnson