Here's a little tutorial for people who asked how to make graphics for their own decals.
It's quite simple to obtain quite decent results, with some work and patience. If you don't like hard work and have no patience, and/or simply wants  professional decals, you should take a look on the MF professionals around (search in MFCA sponsors list). Last thing : with a personal printer, you will not be able to print white (you can print decals on white paper and let the white parts transparent, or use transparent decal paper and paint in white under it…in one word, homemade white decals means more work 😉  ), and your homemade decals will need to be cutted manually. Only professional printers can print white color and make sometimes precut decals. Pro decals are usually of better quality than the ones you can make on your personal printer.

In that tutorial, I will not speak of the printing itself. You can find infos on that on old Tweak issues, and/or the manual of your decals paper.I will only speak about the stripes design. For the other things you should want to print (personal logos, numbers, names), you just have to dig the internet to find free and legal fonts and logos for personal use.
In that tutorial, we will use Inkscape, wich is a great piece of complete software (not a demo or spyware), freely and legally available, and opensource, but good enough to obtain good results too. The last cool thing with Inkscape, it's that the software is compatible with Windows (xp, vista, seven), Mac OSX, and linux  ! Here 's the Inkscape adress to find info and download :
So…Here we go. The first thing you have to do, is to take 2 pictures with a good camera, or find 2 good pictures of the figure you want to make decals for. The pictures should give you good side view of the legs. We will use that photos to make our own stripes, so keep them in a good size (around 700-1000px wide is good enough). For example :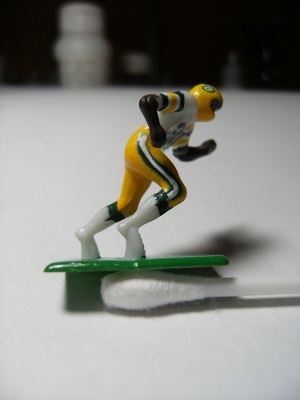 Then, launch Inkscape. In the "file" menu, choose "import", and then select the figure side picture.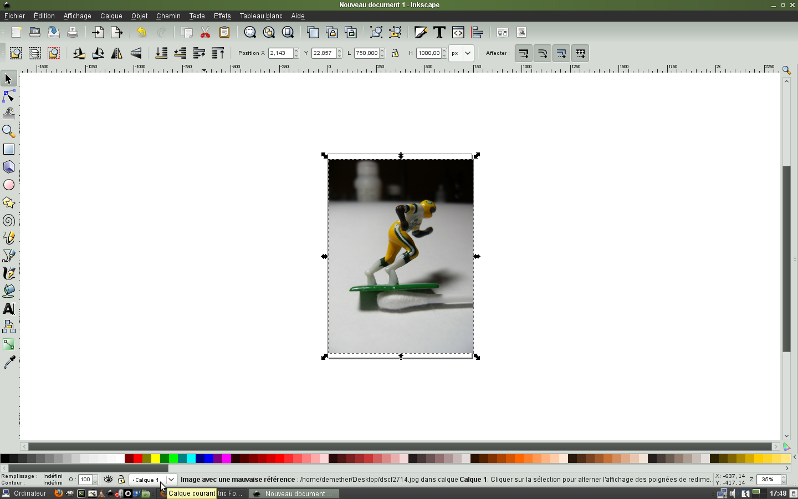 Once you did that, set the opacity (in the bottom left corner of the software) of the picture to 60-70%. It will help you to make the stripes draw without being annoyed by the figs colors.  Then, lock the layer (click on the little lock icon).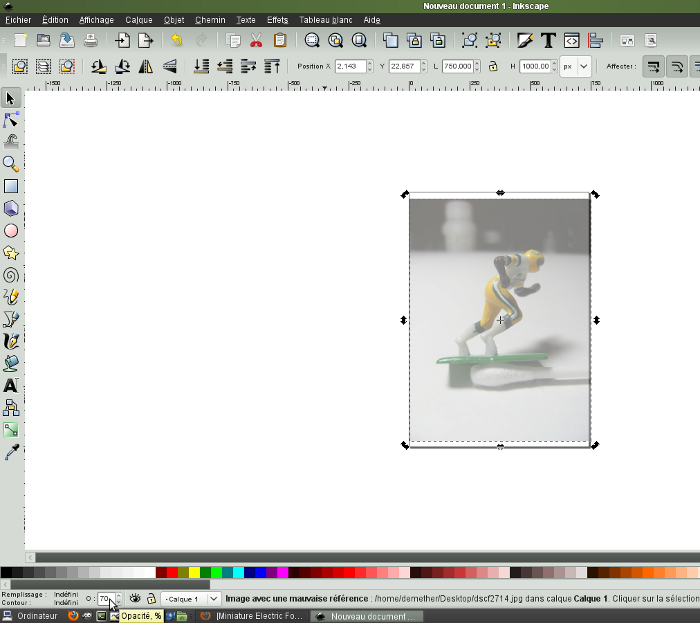 Now, you have to create a new layer. In the "Layer" menu, choose "add a layer". Make sure it appears in front of the locked layer with the model pic. Call it for example "stripes".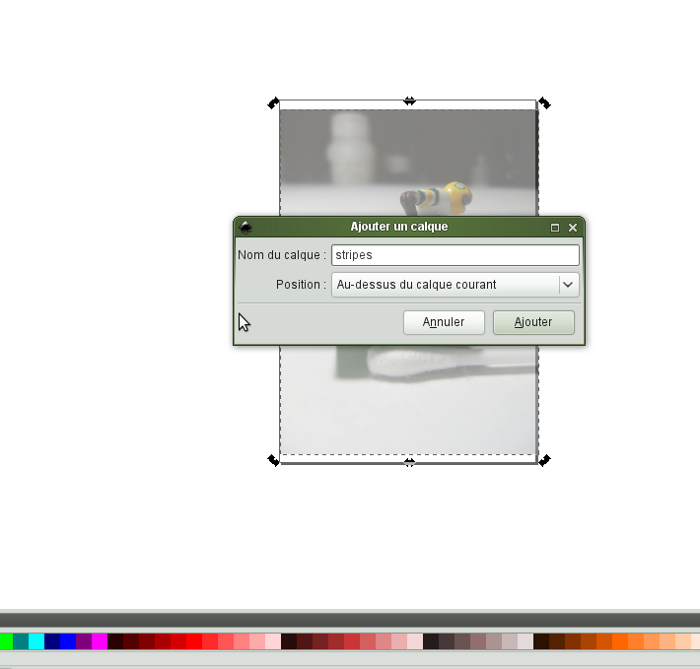 Now, we will draw the stripes. Select the pen tool on the left menu (or use the shortcut maj+f6), and start to draw a curved line, following the leg of the figure. Drawing vector graphics is powerfull, but unusual for most people…so maybe you'll need to train a little. Make sure your line go from the top of the leg to the knee, like on this pic :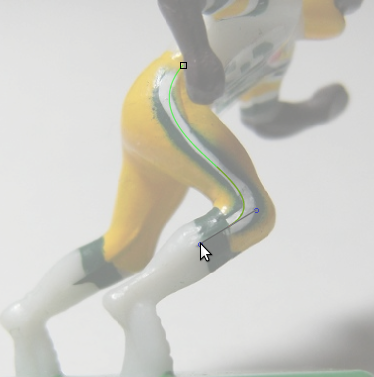 You can also set the line and modify it with other Inkscape tools. See the documentation for more infos (it's not a graphics design tutorial after all 😉 ).
Once you're happy with your line, push "enter" on your keyboard to "finish" the line. You should obtain that thing : a thin black line, like on that picture :
Now, open the fill and border menu, clicking on "filling" on the left bottom corner of the software,( or press the shortcut ctrl+shift+F). Then, set the border like I did (you can experiment other settings of course).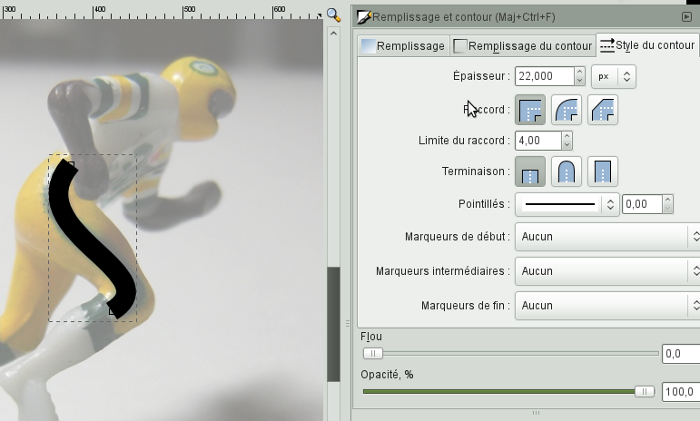 Once you're happy of your stripe thickness, simply press "ctrl+D" or select "duplicate path" in the menu. So now you have another line in front of the first one. We 'll use it as a inner stripe. Open the fill and border menu again, and use the settings I used. You can also change the border color to see what you're doing.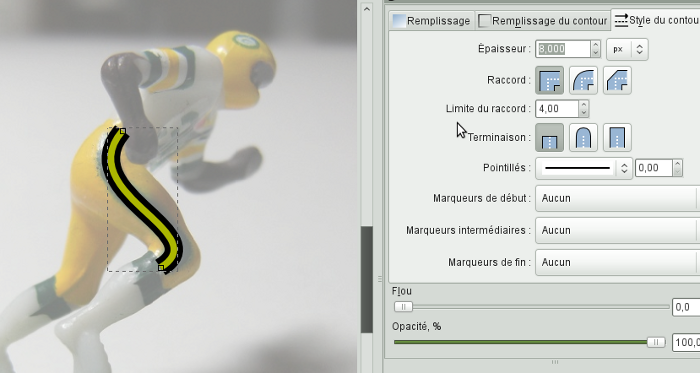 Once it's done, you have to transform that lines with big borders in "real" objects. It will be more eficient to modify, reduce, scale, etc…once it will be objects. SO for that, select the inner line, and go in menu "paths", and select "paths into objects" (or press the shortcut ctrl+alt+c). DO the same for the bottom line if you didn't do that for both stripes.
Finally, you can precisely choose your colors, simply select the inner or outside stripe, and give them a color of your choice. Once you're happy with that, select the two stripers (inner and outer), and group them (ctrl+G or in menu objects). You want to group them to make them easir to move, transform, etc…in the future, because the two objects will be combined in one group.  Then, copy them (menu edit/copy, or shortcut ctrl+C), and create a new document (menu file/new and select the print format you want). On the new document, simply press Ctrl+V (or menu edit/paste)….If you did everything ok, you should have the complete stripes graphic on that new document ! Now, duplicate it (ctrl+D) , set the size to fit your figure (make tests with normal paper to save expensive decals paper), and print it !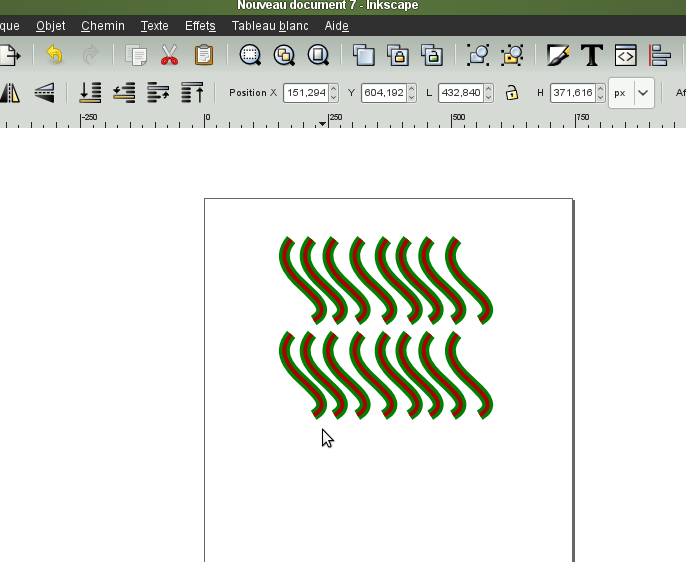 I hope this tutorial will give you the taste of graphics, and give your a little snapshot of the wonderfull opensource world and philosophy !
Dimitri, The French Guy