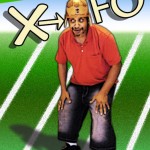 Good morning Coaches and welcome to my blog.
I hope that find things here informative and a fun addition to your playbooks.
Since this is the beginning of this blog, some backround may be needed for some of the readers who may not know who I am.
I have been playing Miniature Football for now some 40 years come this Christmas!  In the years of keeping stats on things, my all time winning percentage is .850……. Yes that is right, I win 85% of time so I figure my schemes and training styles are proven works.  I have won games over some of the best in our Hobby-Sport and have lost games against some of the same greats.
Over the past 10 years alone, I have won 8 league titles and 2 runner-up; 3 tournaments; runner-up 2 times.  Have never lost more than 3 games in any season ever.  So the numbers are there.  Reason I only go back 10 years is because that is the time frame of when I discovered that there were more people playing this game all over the country.
Now that info is out there, let's discuss more about what you can expect from this blog in the future.
I will talk about team building, player scouting, how to build your O-line and D-line, how to run plays, how to create blocking patterns how to run bootlegs, all kinds of plays to help you move the ball on offense or to slow down someone on defense.  You cannot always stop your opponent, but you can slow them down long enough for you to gain the upper hand and pull out a win.  I will have pictures with diagrams to help show you the way.
I will also talk about some of the things I will encounter along the way to trying to win another title.  Over the last 12 months, I will have been  involved in 5 leagues (BEFL, NEFL, BAM, CBSMF, MID-Ohio).  Using 4 different teams with at least 36 players each, I went through a lot of bases.  Sometimes Coaches will ask a question about which is better – custom players or bases for the money.
Here is part of the question '…whould it be better to get 480 bases for$100 or to get maybe 5-15 custom players for $100??'
I would take the bases….. I know that when I am building a team, it usually beginss in the late spring forthe upcoming season.  It can start out with 50-60 players for the team in figures.  I may not dress them all, but you can see 50 bases to start with.  Now mind you, that is for just one uniform of the team in question.
Okay, when teaking for competitive play, you want players that can run and be tough  in the trenches, fly to the ball, and run to the house or execute your schemes.  Well the only way to find all this talent is to go thru those 480 bases to find the best players to give you a chance to win.
You may need some of the 30 yd types as well as the 75+ types on your team.  you  may even have some 15 yd guys too.  They may not play every down, but they will make an impact when they do.
I may go thru 100 to 150 bases to put together my team.  The difference being is that every base tweaked that does not make my team is still good enough to make someone else's team.  I have given away fanchise players to so many cooaches I have lost count.  some have come back to score points on me, others have used my "coached-up players" to win titles so I know this to be true.
Dre, if you want to make your team do the things you want, you will need to "coach them up" by making each player special and as a unit, the team will be special.
Thanks for stopping by and pull up a chair for the next installment.
K-LO