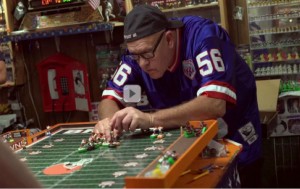 Click here to watch the video: http://grantland.com/features/its-not-crazy-its-sports-the-subterranean-stadium/
This is the first of his six shorts for ESPN Films. It's about electric football, a basement league, and the gang of glorious eccentrics who keep a decades-long tradition alive.
Welcome to the Subterranean Stadium, the basement of John DiCarlo's home in Charlotte, New York, where he and his buddies and relatives have gathered for years to play electric football. In this beautiful, deeply personal film, Errol Morris not only makes the little players come alive, he also lets the men who manipulate them tell their own stories: the hot dog vendor, the ex-con, the Kodak company man, and the postal carrier who defies his own health problems to keep the "buzz, buzz, buzz" alive. Yes, they keep score, but, as DiCarlo says, "All that really counts is family and friends."
Visit Grantland every day this week for a new It's Not Crazy, It's Sports short film, and for more of Errol Morris Week.