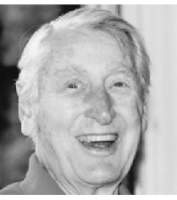 NORMAN ANDERS SAS
NORMAN ANDERS SAS Norman Anders Sas, 87 died in his home with his loved ones at his side on Thursday, June 28, 2012. He was born in New York City where he attended the Bronx High School of Science and entered Massachusetts Institute of Technology as part of the Navy V-12 program in 1942. He was commissioned as Ensign after receiving his B.S. in Mechanical Engineering and went back to M.I.T. after the war where he received another B.S. in Business Administration. He went to work for General Electric's plastic plant in Pittsfield and then their gas turbine plant in Lynn, Massachusetts. In 1948, Norman became President of Tudor Metal Products Corporation at the age of 23, a business founded by his father Elmer Sas in 1928. In the 1970's, Tudor Games went on to become the number one licensee of NFL properties with their highly successful game True Action Electric Football. A history of electric football and Tudor Games was published in the "Unforgettable Buzz" by Earl Shores and Roddy Garcia in 2012. Norman served as Director on the board of the Toy Manufacturers of the U.S.A. for several years.
Norman met his lifelong love, Irene in the neighborhood Dutch Reformed Collegiate Church. After a two-year courtship, they were married in 1950 and had three children. They started their life together in Manhattan and built a home in Alpine New Jersey where they lived for 36 years. Norman was a member of the Alpine Planning Board and a volunteer of the Reliance Fire Department in Alpine. He was a long standing member of the New York Athletic Club, the Knickerbocker Country Club, the Englewood Field Club and the Johns Island Club in Vero Beach. He loved to travel and had many opportunities to do so through his membership with Young Presidents Organization and Chief Executives Organization. He enjoyed a good game of golf, his tennis buddies, a black diamond ski run, and most importantly his family.
Survivors include his wife, Irene, his daughter Wendy and son-in-law Jamie Jones of Concord, Massachusetts, his daughter Martha, son-in-law Mark O'Connor of Wellesley, Massachusetts and seven wonderful grandchildren. He was preceded in death by his son, Wayne Anders Sas. Mr. Sas, fondly known to his grandchildren and family as "Twodaddy" will always be remembered as a true gentleman, a loving husband and a giving and caring father. He will sorely be missed.
There will be no services. Memorial contributions can be made to Hospice House of Vero Beach, 1110 35th Lane, Vero Beach Florida 32960. Paid Obituary