Hi,
In that little article, I'll show you how to post pictures on the MFCA forum. It will be usefull to post your custom pics, field, or league action. Here's the technic you have to use : it's fast and simple.
STEP 1 : make your pictures "forum friendly" :
THe first thing to understand, is that the pictures you have in your camera are not very compatible with forums and internet purpose. You have to modify them to make them more easy and fast to see by your internet fellows (since everyone can have a more or less fast internet connexion).
SO the first thing is to upload the pictures from your camera (using the software you had with it for example) and put them on you computer. Then, open it with your favorite graphics software (every operating system 's got his own embedded graphics software) : Paint, Gimp, etc…On that example, we will use Gimp (you can freely download it for Mac OS, windows, or linux).
You can notice that the pic is a way too big : The example picture (8millions pixel camera) "weight" is 1.9MO ! and the size is too big too ( 3264 pixels) …Remember a lot of people has screens with only 1000-1500 pixels width.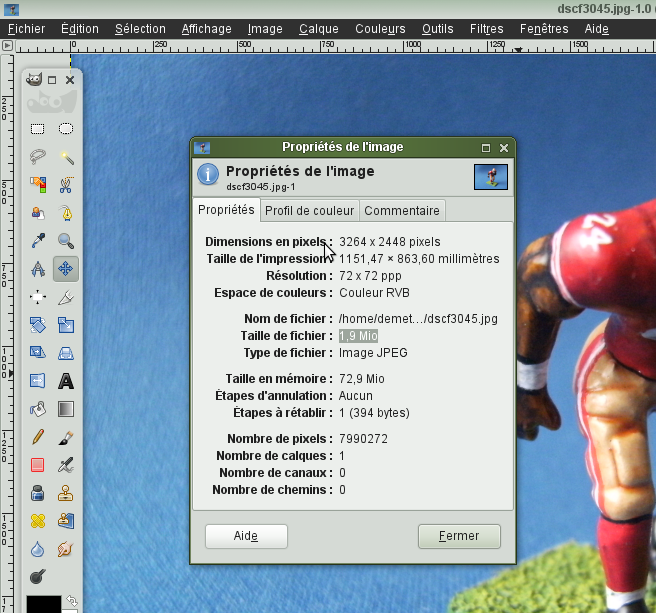 So we will resize the image. Depending of the software you 're using, the resize tool is often placed in image/resize image menu. For a forum purpose, 500 pixels width for individual figures, and around 800 pixels max for complete teams or league events pictures is a good choice.
Since here the example picture is a individual figure, we 'll choose 500 pixels. The software will resize automaticaly the height too. Once you choosed the size, click on "resize" or "scale" button (depends of the software).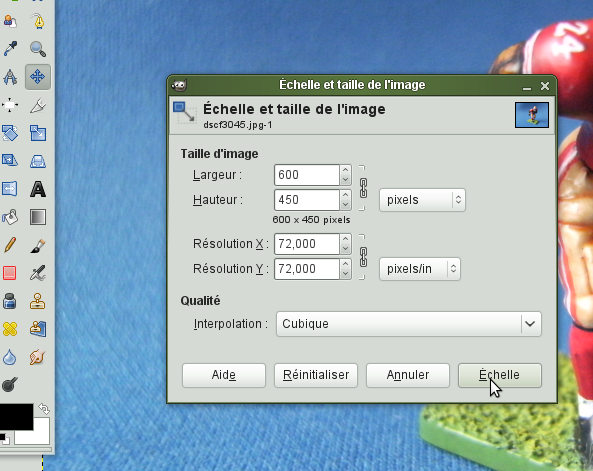 Now, you can save your picture ! The fatest way is to simply press "ctrl+S" shortcut on your keyboard. It will make you look like a real computer geek 😉
Otherwise, simply use the save option in your software menu. note : when you make pictures of figures, always use the "macro" mode on your camera. Most of the time, it is symbolized by a tulip flower. It will make your pics not blury.
Step 2 : inserting pictures on the MFCA forum !
Now, go on the MFCA.org forum, and create a topic as usual. You 'll see on the bottom of the screen, a "manage attachement" button. It 's the button we will use to insert pictures (and a lot of other things, by the way…we 'll see that another day).  SO…Click on it !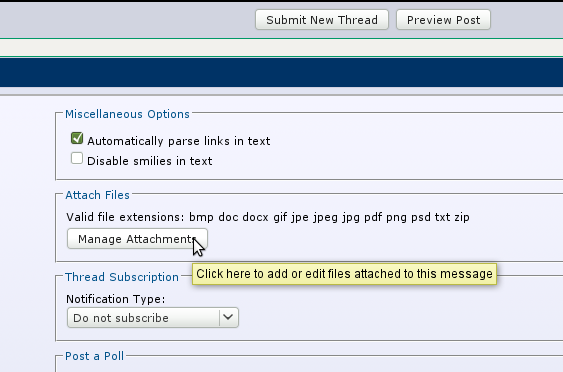 When you click on this button, a new window will be opened. If not, don't forget to set up your internet browser to accept popup from MFCA website. So in that new window, you will find a sort of form. You can upload 5 pictures on each time. But for that example, we will only upload one picture. I advise you to do the same the first time, and when you'll be more familiar with that functionality, you 'll see for multiple uploads.  For now, just click on "browse" button, as I do on the next picture (it's named in french, because I'm french…But you get the idea! ) .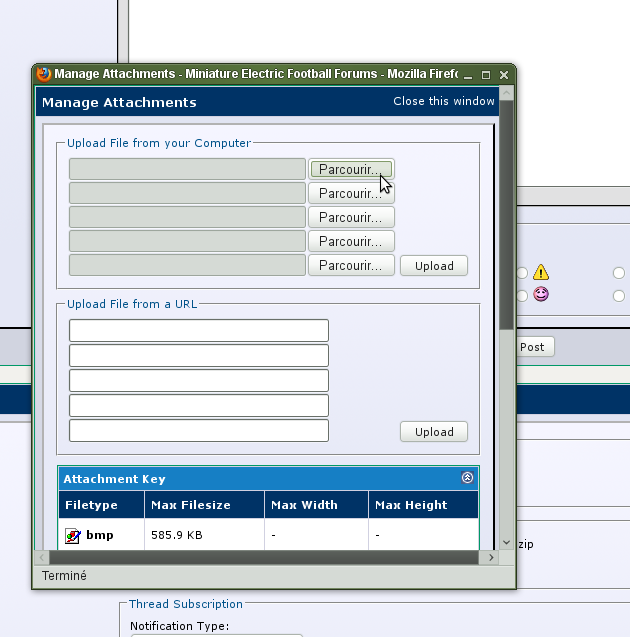 A new window will appear. In that new windows, you will have the possibility to browse your computer to find the pictures you want to show to the rest of the world. Personaly, my example file is located on the desktop, so I simply browse the window until I find the picture. Then, simply click "ok".
Now you can see that the first window has changed. Simply click on "upload" to complete the process, as I did on my example  :
After a few seconds or minutes, depanding of your internet connexion speed, the window will appears like that on the next picture. It means your picture has been successfully uploaded (see "current attachement" section on the pic). Now, simply close the window !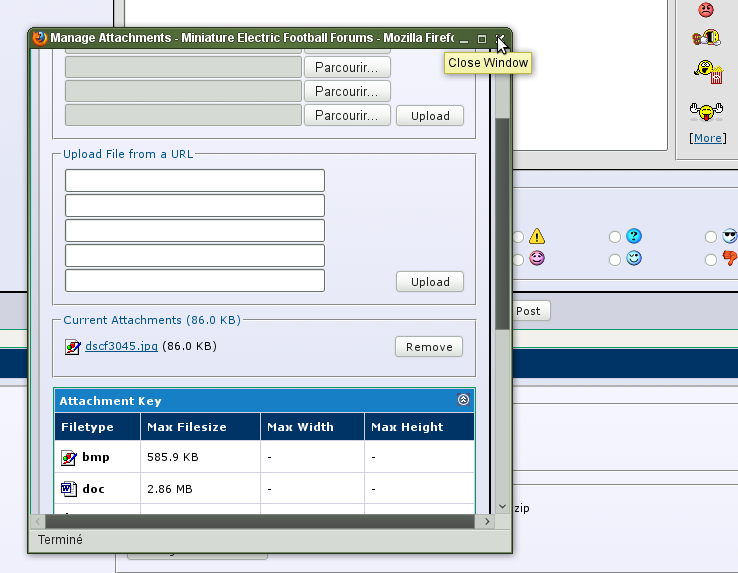 Now, the picture is uploaded on MFCA forum, even if you can't see it for now. SO simply write your topic or post, and once you finished, you can click on "preview" button to see if it works !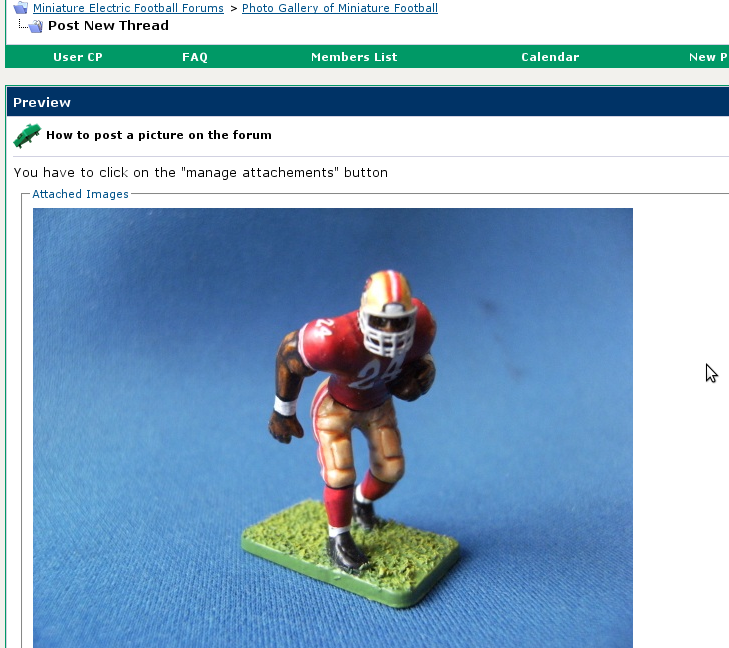 Once you're happy with your post/topic text and the picture(s) you uploaded, you can click on "submit" button, and show your pictures to the other MFCA fellows !
I hope that little article will help people to show us their own pictures of figs, fields, or miniature football parties !