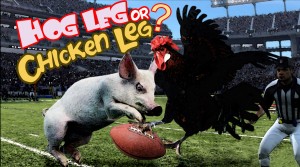 Welcome to my blog concerning the collecting aspect of miniature football. Hopefully I can answer your questions about collecting teams, gameboards and some of the other stuff related to collecting miniature football related items.  I have a relatively large collection of miniature football items, but one thing I have learned is that my collection is extremely small compared to alot of others.  Anyway, Stay Tuned…..
Now for the answer. One of the first questions that come up when comparing figures and their collectiblility is "Is that a Hog Leg figure or a Chicken Leg?  Here is a pic of a Classic Hog Leg and a Classic Chicken Leg.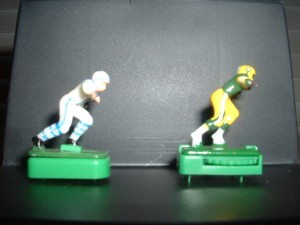 The Colt figure on the left is a Hog Leg. Hog legs are thicker at the calf and ankle than other figures. Typically Hog legs are the first deluxe players made by Tudor in 1967 and are the first figures to be painted in Official NFL uniforms. This figure is from a Tudor NFL Model 510 game set that included the Colts and Packers. The Packer figure on the right is a Chicken leg. Note the thinner calfs and ankles.
Here is another pic of some chicken leg figures. They are early Patriot and Oiler figures.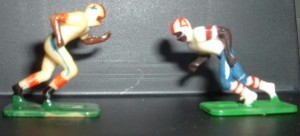 And here is an extreme example of some chicken leg figures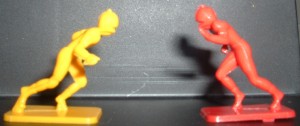 Certainly Hog Leg figures are more valuable to a collector since they are older and harder to find than other figures. Plus the fact that these are the original NFL uniform teams. Expect to pay Premium prices for these figures and gameboard sets.