Paul Bartels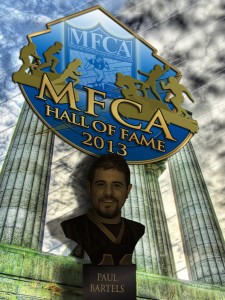 Coach Category
Paul "Raiderman" Bartels

Raiders
Personal History:

His love for this hobby began on Christmas Eve 1985, when he received a game containing the Dolphins and 49ers from his brother
Soon he was ordering more teams, the Raiders and Cowboys, it was then his lifelong favorite team became the Raiders
He started playing with anyone and everyone, friends, family members and soon a neighborhood league began to take shape
His EF youth came to a close when he left for college with his boards and teams in tow and then abruptly selling his boards and teams based on an ad in the local paper – "Tudor Electric Football Wanted"
In 1997 his love for the game was rekindled when his wife bought him a new game board – and started a league in Springfield, Missouri
By 1999 he became an active participant in the electric football renaissance that was sweeping the internet thanks to Miggle Toys
Achievements and Career Highlights:

Successfully competed and won Tournaments and League Championships
Developed rule-set for NHFL and numerous other leagues
Introduced the game to many, including many children
One of the first to promote a tournament, the Raiderman Invitational in a shopping mall for great exposure
Considered an excellent tweaker
Considered an excellent painter
Built 620 Size Boards of excellent quality
Harrisburg Pro League Champion: 2002, 2005, 2007, 2009
Harrisburg College League Champion: 2001, 2002, 2005, 2006, 2009, 2010, 2012, 2013
Colonial Buzzball Association Champion: 2000, 2001
National High-Voltage Football League Champion: 2006, 2007, 2009
AJ's College Tournament: 2003
Tom Ruesink's Tournament: 2004, 2005
Buzzball Winter Fest Champion: 2003, 2005
Buzzball Summer Slam Champion: 2005
Buzzball World Championship: 2008
In general Raiderman, has done more for the hobby in every category  to include painting, tweaking, building boards, teaching it to a younger generation, starting leagues, to include one of the first national leagues (the NHFL), and simply respecting the hobby and making it the best it can be.
Personal Life:

Married to wife Karmen, and has 4 children
He's a credentialed Assembly of God pastor and currently serves as the Children's and Youth Pastor to 25-30 kids in children's church and 20-25 teenagers in youth church at the Capital City Church in Harrisburg, Pa.
Professionally he is an architectural designer and project manager
He is most thankful for this honor and recognition
The Raiderman Story My love for this game began on a Christmas Eve in 1985 where under the tree was a odd shaped box all wrapped up. It was nothing GI Joe related I knew that (I was into GI Joe back in 1985). I thought it might have been a train set. In our house we opened presents on Christmas Eve at midnight. So when 12:00 finally came and I got that skinny long box I ripped it open to see what it was. A football game? Up until this point I did not watch, know, understand sports at all; especially football. So the night ended and my brother who bought me the EF game opened it and began to explain it to me the next day. He ordered me more teams and that's actually when I picked the Raiders as my favorite team. My game came with the Dolphins and 49ers and I added the Raiders and Cowboys. I thought I liked the Cowboys up until that time in my life but after looking into the NFL teams more the Raiders would be my real team.
So it all began in December of 1985 and I began to play this game with friends, family and anyone that would play it. I managed to collect all the teams over the next couple years and even formed a neighborhood league. The years went on and I left for college. I took my board and teams with me but a newspaper add from a guy looking to buy all Tudor Electric Football items caught my attention. So I sold it all that day in 1995. Every team, every base and both of my boards. Gone.
Then in 1997 my wife bought me a new game for my birthday! (I think if she could go back in time she would have never bought that for me). I felt more excited than I did in 1985 and now I worked and had money to buy everything I wanted!! I started a league in Springfield, Missouri where I was living. We had one season before I moved to Pennsylvania. Once I got to Pa that's where everything really took off. The hobby started booming with guys making things, inventing things, building boards, etc.
From the time I moved to Pennsylvania in 1999 electric football was a high priority on my list of things to do. I formed local and national leagues. Attended local and national tournaments and played in various leagues from 2000 until 2009. During this time I also "built" my family of four awesome children and have fathered them and watched them grow as well as supported my wife of now (15) years in her ministry.
In 2009 my passion for the game dwindled. I took on a volunteer ministry position as a children's pastor at a local inner city Harrisburg church. That passion would soon replace most of the EF in my life. Since 2009 I have become a credentialed Assembly of God pastor and currently serve as the children's and youth pastor at Capital City Church in Harrisburg, Pa. Each week I minister to 25-30 kids in children's church and 20-25 teenagers in youth church. As well as my volunteer work in ministry I am also an architectural designer and project manager full time during the week and have been at my current position for the last ten years.
While I do not find time to paint as much as I used to I still find time to run the local Harrisburg Buzzball Leagues. Our Pro League runs from November through January each year. Our College League runs through the months of March and April on a yearly basis. This November we will enter our 14th season of the Harrisburg Buzzball Leagues.
My kids understand my hobby and they have tried to play on occasion but they do not have that same desire to play the game like I do. I can't even explain why it's so fun to me. It just always has been a really awesome game and a big part of my life. For me to be inducted into the 2013 MFCA HOF class is a dream come true for me and I am thankful to those who voted me in.
Paul Bartels HOF Acceptance Speech
Disclaimer: The man reading this (Ray F.) is NOT the Raiderman. I am not that skinny. I am not that short. I do not talk with that funny accent. I do not drink booz and I have more hair (for now).
It is with great honor that I accept the award of being voted into the MFCA Hall of Fame. It is also with great regret that I cannot be here in person to fellowship with you all. Please forgive me but my schedule is very demanding. My mother is currently recovering from open heart surgery from a week ago as well as a previously planned city wide outreach with my church scheduled for Saturday August 3rd in inner city Harrisburg. Although my passion has moved to spreading the gospel of Jesus to the inner city of Harrisburg electric football will always be a part of my life.
Electric football has been a part of my life since I was eleven years old. I didn't even know the game of football when I received the game for Christmas in 1985 but I quickly became a fanatic. Before the birth of my four wonderful children I lived for electric football playing in many leagues and every tournament that I could get to. There was always and still is this unexplained excitement of playing this game. From creating the teams and bringing them to life, to basing the teams, to playing in leagues. Those little players just became a part of me. Anyone outside of this hobby would never understand that statement but I'm sure all of you know EXACTLY what I'm talking about. Can I get an AMEN?!
This hobby has provided me with years of enjoyment, an amazing fellowship of friendships as well as an avenue to reach out to the younger generation. Many of the youth that I have taught this game to have grown up and gone off to college but as they return they still desire to be back in our local league playing. Through this game they learned sportsmanship (if you trash talk anyone in the league then Raiderman is going to give you the beating of your life), they learned respect for others as well as being a part of something they enjoyed for many years. Teaching the younger generation this game has always been a big part of my mission. They will eventually carry the torch for us. I mean, come on guys, how many more years can we hunch over a table and deal with that killer lower back pain?!
I feel obligated to inform you of some great stories of Corey Johnson my teammate this year with both of us being elected to the MFCA HOF. Corey once told his girl that he worked part time at Sears and meanwhile he was traveling to Harrisburg to play with us on Thursday nights. Corey once fell asleep in the hotel lobby on the couch during a Buzzball tournament in Harrisburg. He was all curled up in the fetal position. I told the desk clerk to call the cops but he remembered Corey checking into an actual room. Being the self promoter that he is he USED to carry a photo of himself in his team box – that was until I lit it on fire during a league gathering one Saturday in Altoona. Corey stayed at my house once and I drug him out of bed at 6:00 on a Saturday morning so we could play our league game before the others showed up. He still complains about that but he did not complain about the pig roasting in my back yard that day! How about this line, "I just based this team up."
In conclusion I would like to thank many of my friends in the hobby. I'll start with Mike Pratt and George Diamond who were my initial friends in this hobby once I moved to Pennsylvania in 1999. Mike taught me so much about this game and George has always been there with me as we established the Harrisburg Buzzball Leagues (even though I did most of the work). To Mike Guttmann who has been a great friend to me over the years from my first tournament in Minneapolis back in 2004. Aaron "The Juice" Johnson has been a great friend in and out of this hobby for well over a decade not to mention my FIRST friend on the old Miggle chat board. We may not talk too much (except when Michigan plays Ohio State) but every time we hook up we just pick up where we last left off. The Weirdwolf! NFL enemies but lifelong friends. I still remember sending Wolf an e-mail telling him about the old Miggle chat board where many of us met back in the late 90's. One of my favorite characters in the hobby is Ed "Smokestack" Scott. He was always the brains of the Philadelphia connection. (You know who else is from Philly right?). Ed with his famous shouts, "MOSES! ASTA LAVISTA! ARRIVADERCHI BABY!!" Priceless. To the crew from DC I owe you a lot of credit. If it weren't for Keith Chalmers, Kelvin Lomax and some others that made me so mad at tournaments I would have never won as many times as I did! So to you I say thank you. To my many friends in Michigan like Norbert, Jimmy Davis, Ken Allen, Greg Hardmon, Chuck Lawrence I thank you all for your friendship both inside and outside of this great hobby. Lastly to the man reading this. My buddy with the funny accent Ray Fanara. Thanks for the laughs, the support and your friendship over the years. You make me laugh so hard. Especially the time you took me to the Redskins game to see the Raiders. You have not lived until you see an NFL game with Ray Fanara!
Thank you all and again I'm sorry I cannot be with you. God has a calling on my life and He needs to come first. I would pray that all of you find the calling that God has on your life as well if you have not already.
Have fun, play hard and make friendships that will last a lifetime. Thank you.
THE Raiderman
If you have photos and/or stories you would like to share about Paul Bartels, please send them to: Email the MFCA Hall of Fame